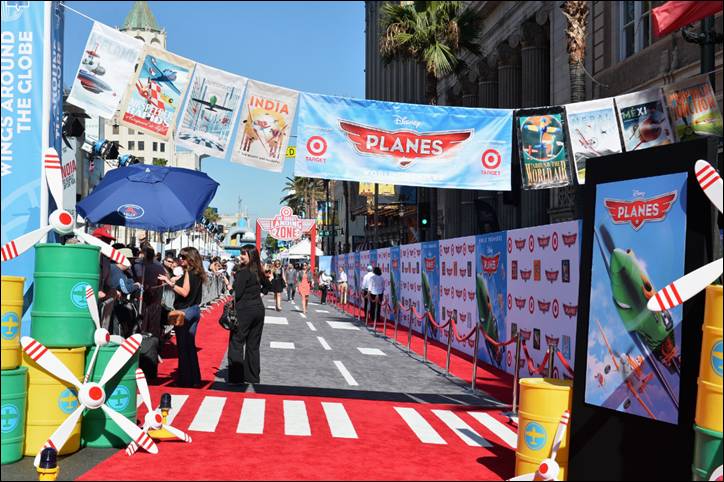 Photo credit: Disney
Disclosure: This event and trip to LA was an all expense paid journey sponsored by Disney.  All thoughts, experiences are 100% my own!
I haven't slept much in the last 24 hours.  I took the red eye from Los Angeles to Rhode Island and didn't get home until 10:30 am this morning.  But it was all for a good reason!  You may remember I told you recently I was heading to Los Angeles for the premiere of Planes… you may have seen some tweets over the past couple of days from there as well as posts on Facebook.  It was an amazing few days and I still can not believe that just a few nights ago I was in Los Angeles and I walked the red carpet for the premiere of Planes.  It almost seems like it was a dream, but it was real!
At about 5pm on Monday, August 5th we arrived at the  El Capitan Theatre  on Hollywood Blvd.  A portion of the street was blocked off for the red carpet and the pre-party.  Honestly it was nothing like I expected having always seen this on TV before.  It was so much better!!!  The excitement of an event like this is AMAZING.  There were hundreds or perhaps thousands of people gathered there to hopefully get a glimpse of someone famous!  It was crazy exciting!!
We were admitted access on the other side of the barricade – the side that I never thought I would ever be on!!!   We walked along the 'back' of the red carpet area that the stars walk on ( I thought we'd be on the same part but I'm fine with what we got to do!) and stopped to take our 'red carpet picture'.  Actually it was the run way rather than a red carpet since this was for the premiere of Planes!  I think it finally 'hit' me when I saw Teri Hatcher and her beautiful daughter posing for pictures.  (Teri voices Dotty in the movie and did an awesome job!).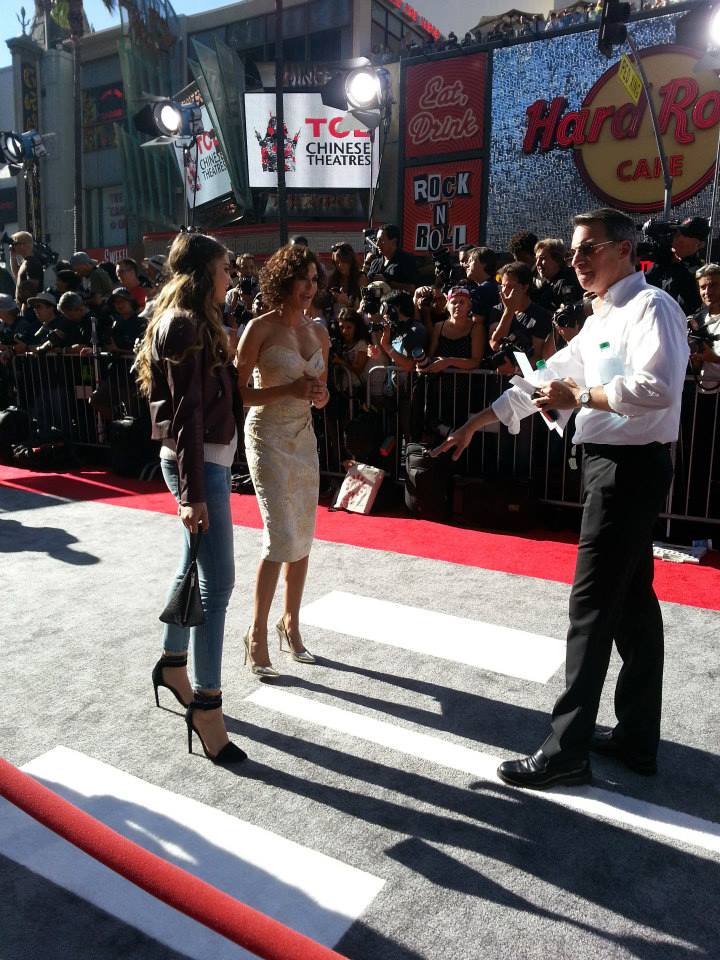 Photo credit: Karen Wilmes
That was when I realized I was really here!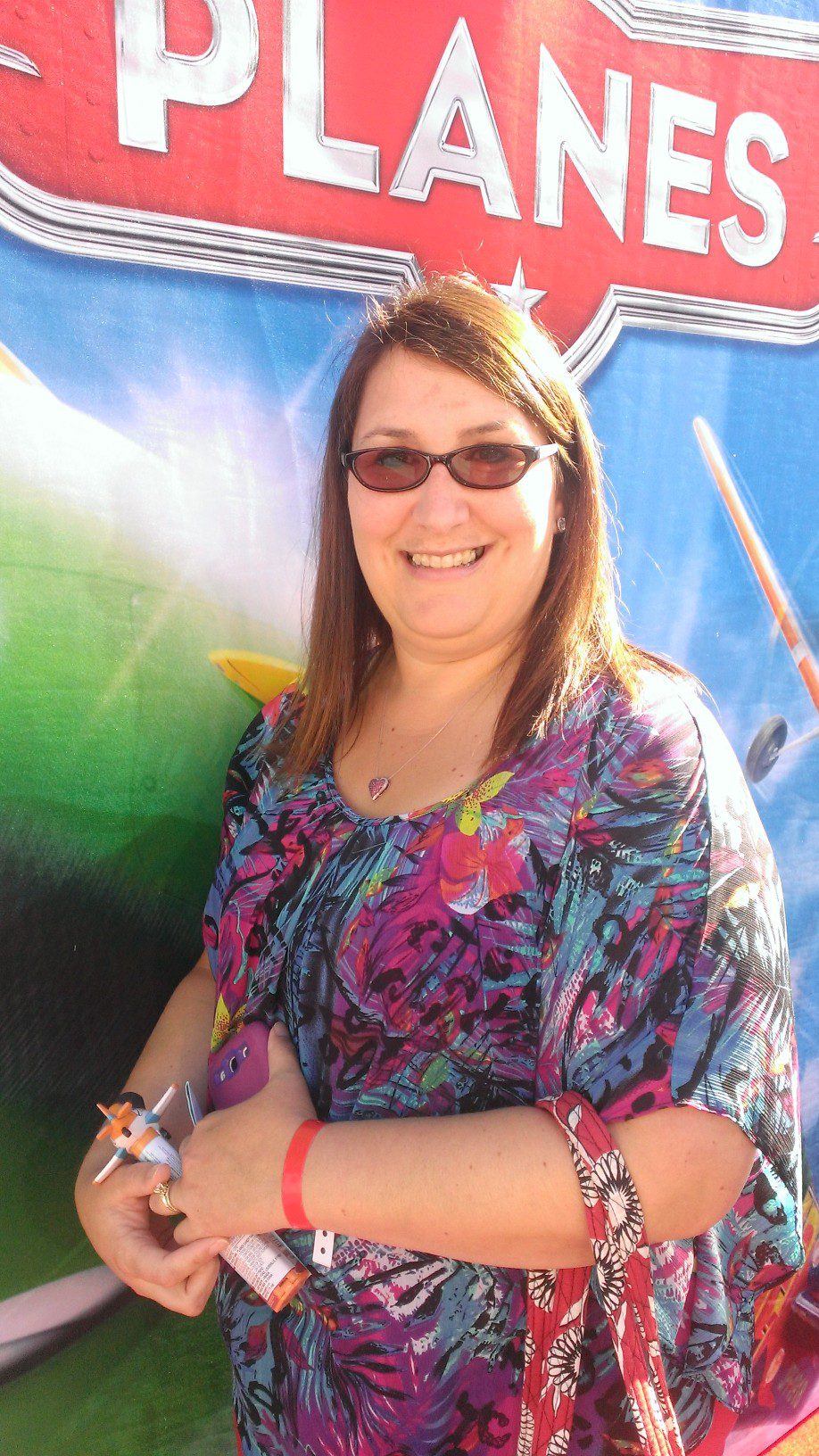 Photo credit: Karen Wilmes
Before the movie began there was a pre-party.  I had no idea what the pre-party would be but to sum it up in one word – it was AMAZING!  There were booths with Planes merchandise from Target on display, some had food and then there were some where you could play carnival type games and win prizes.  It was really easy to win them and fun to play.
The entire time we were looking around I couldn't stop shaking inside and my heart was beating so fast because I was so excited to be there.   I really wanted to walk up to people and ask them to pinch me to make sure this was all really happening!  I had no idea that I would start to see movie stars and once that started happening I really couldn't stop shaking.
The first celebrity I saw was Jason Priestley.  He was standing next to us with his adorable family and he looked amazing, like he hadn't aged at all since he was on 90210.  I was in high school and college when the original show was on air and I watched it faithfully every week and loved it.  Some of the gals that were with us asked him if he'd take a picture with them and he was so nice about it that I decided to ask him as well and he was like "SURE"  (insert squeal from me!!!).
Jason is not in this movie but took his wife and kids to see it.  There were a lot of families there since this is after all a Disney movie!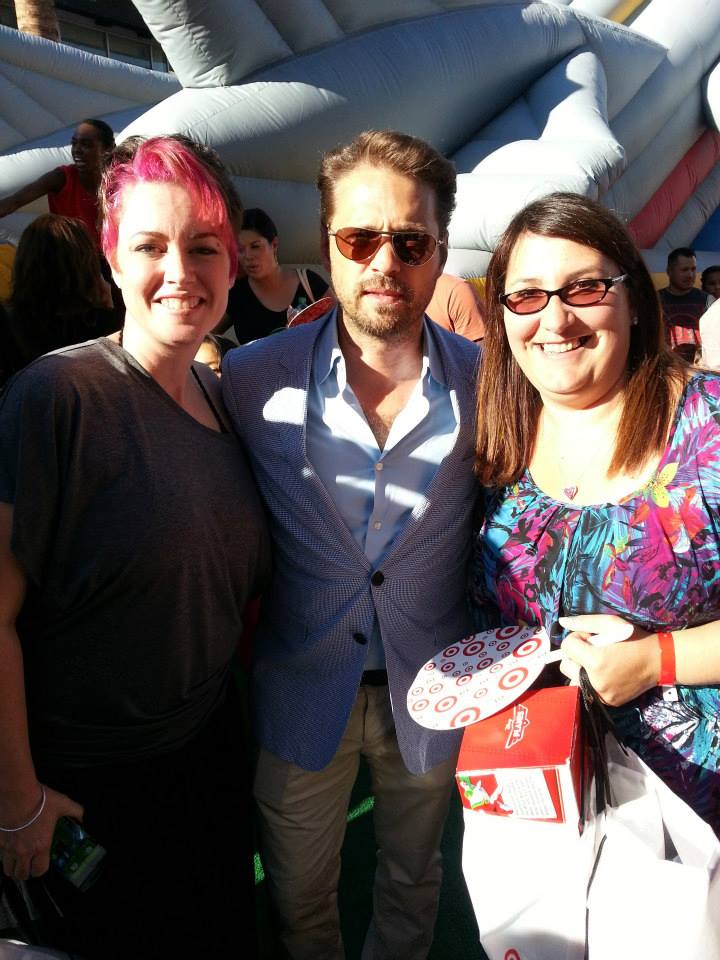 Photo credit: Karen Wilmes
Doesn't he look great?   In the picture with me is my new friend Kenda from Remaking June Cleaver.  We became fast friends on this trip!
I was  SO EXCITED (yes I felt like a teenager seeing Justin Bieber!).  Well, not only did he take a picture with us very willingly but he also chatted with us asking us where we got the bags and items we were holding (Prizes we won).  He was SO NICE.   After that I was like "OK who else can we see"… and we started looking around to see who else was there and we saw so many other famous people – Anthony Edwards, Harold Perrineau, Julie Bowen, John Ratzenberger, Peter Facinelli, Ian Ziering, Karan Brar, Cameron Boyce, Dave Coulier, Brook Burke and I can't remember how else.
Shortly after we saw Jason, we ran into his wife who, since we saw them, lost Jason.  She recognized us and stopped us to see if we knew where he was.  Yes, you read that right, Jason's wife stopped us to see if we knew where he was!   So we told her were we'd last seen him and she thanks us.  She was SO nice!   Then about 10 minutes later we say Jason again and stopped him since she wasn't with him, and told him she was looking for him.  He laughed and thanked us, it was so funny like we were all friends!
As we walked around I still couldn't believe we were actually there among all these awesome actors.    It was like a dream come true.  I had no idea when the movie would begin and just enjoyed our time.
Since this was a Disney movie there were a lot of Disney Channel stars there as well.  My girls are both at the ages where they watch a lot of Disney Channel shows which means I watch these shows too.   One of my friends pointed out to me that some of them were there and then I noticed the beautiful Bella Thorne who my girls adore.  I asked her for a picture because I knew they would love seeing mom with her and it might even give me a 'cool' status with them.  She's super tall and I look so short with her….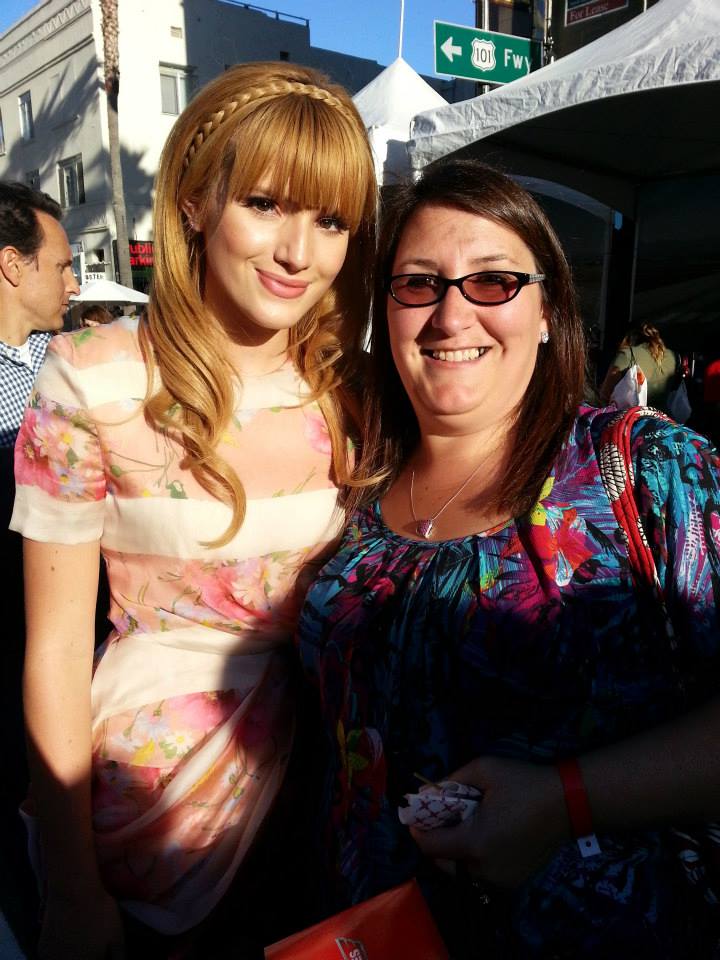 Photo credit: Karen Wilmes
But she was really nice and more than happy to pose for a picture.  I told her how my girls were both really big fans and she was thankful for that.   Another really sweet girl.  Once I got into the theater I saw two more Disney stars from another one of their favorite shows.   My girls were so excited when they saw my picture and I told them who I met/ saw.
Finally it was time for the movie so they ushered us all into the theater.  I was sad for the pre-party to end but knew it had to eventually.  It was such a GREAT time and I still can't believe I was there.  I think it will be a few days before I come down from my cloud.  I'm so grateful to the wonderful people I work with at Disney for inviting me to this awesome event.  I will always remember it!
Planes hits theaters on Friday, August 9th!  Are you planning on seeing it?  Check back later this week for my review of the movie!
Disclosure: I received a a FREE Trip to Los Angeles to attend the #DisneyPlanesEvent. My opinions are 100% mine.