Walmart invited me to take a challenge!  They sent me a $50 Gift Card and asked me to buy a complete Thanksgiving meal and share what I bought on Koupon Karen.  According to the American Farm Bureau Federation, last year the average cost of a Thanksgiving meal was $43!!
I was up for the challenge but honestly I thought that with buying a turkey too, I'd spend more than $50.  So I set out to see what I could do.
Here is what I bought…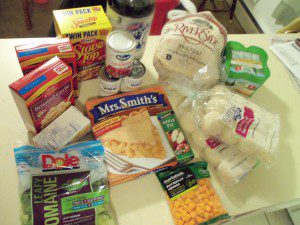 Stove Top Stuffing double pack, $1.50
(2) Betty Crocker Potatoes, $.98 each
Bag of Salad, $2.50
Cubed Squash, $2.48
(2) Great Value Rolls, .98 each
Great Value Butter, $2.38
(2) Great Value Turkey Gravy, $.94 each
4 Pack Green Giant Corn, $2.00
Ocean Spray Cranberry Sauce, $.98
Diet Cola, 3L $.98
Frozen Pie, $3.48
Frozen Turkey 13lbs @ $.68lb, $8.89
Total Spent: $31.06 –> WOW
Did you see the price of that turkey!  I couldn't believe it!!!  So I was wrong.  The turkey was not going to bring me over the $50 at all!  Plus I have some things on hand that I could use as well.  I'm sure if you look through your cupboards you could find food already there that you can cook for thanksgiving dinner.
MENU
Salad – will use salad dressing I have on hand and anything else I have that goes into a salad.
Turkey with stuffing & gravy — I bought boxed stuffing to save time and I will dress up the stuffing with some ground hamburger and ground sausage I have on hand in the freezer.
Potatoes –> I bought instant to save time
Cranberry Sauce
Squash – I bought cubed squash to save time.  I will use apples and walnuts that I have on hand already to mix with.
Corn
Rolls with butter –> just bake them and they will be nice and fresh
Beverages – Soda and Water
Dessert – Frozen Apple Pie
I thought for sure this would be a hard challenge but with Walmart's prices it really wasn't.  They've lowered prices on so many items for the holidays to  make sure everyone can afford to enjoy a GREAT meal.
Items on Rollback (prices below are national average, see your store for local pricing)..
Fresh green beans at $.98 per pound
Fresh sweet potatoes at $.28 per pound
4.0–6.6-ounce box of Betty Crocker Potatoes for $.98
5–6-ounce box of Stove Top Stuffing Mix for $1.25
9.5–15.25-ounce can of Green Giant or Del Monte Canned Vegetables for $.60.
Sara Lee 12-count Dinner Rolls for $1.88
14-ounce can of Ocean Spray Cranberry Sauce for $.98
12-ounce jar of Heinz Home Style Turkey Gravy for $.98
2-liter soda, variety of flavors for $.88 each
Paula Deen 9-inch Dark Rum Pecan Pie for $8 in the bakery department
Pumpkin Pie, $3 each in the bakery department
Grandpa's Oven Pumpkin Cobbler Bread, 16 oz, $2.98 in the bakery department