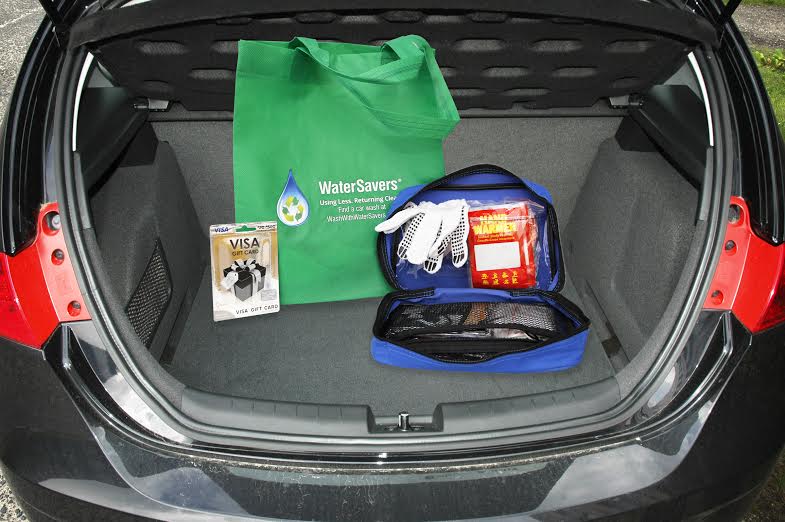 This post is sponsored by the International Carwash Association but my opinions are 100% my own!
Is it cold where you live?  It is here!  And it seems like it happened really fast.  Perhaps I may think it's colder than it is because I hate the cold, but I live in New England so I should be used to it by now.    We've prepared our house for the cold – all the air conditioners are out of the windows, the yard has been cleaned up and all the outdoor items are snug in the shed.  Oh and I even thought to dig out the shovel and put it in front first this year.  Last year we had to buy a 2nd one because we couldn't find it when we needed it.  Now we have two and they are both easily accessible!
And now it's time to get my car ready for the cold weather.   If you haven't thought about preparations for your vehicle, these five simple tips will help you prepare for the colder months ahead.
 Check your tires. Before the roads get slick, check your tires to be sure they aren't worn and that they are properly inflated. You should be able to find the proper tire pressure on the inside of your driver's side door. Cold air will cause the air in your tires to compress and may cause your tires to lose pressure, so make a note to check again later in the winter.
Wash and wax your car at a professional car wash. Putting your car through the car wash during the sloppiest season of the year may seem a strange idea but a thorough wash can remove harmful compounds that may cause damage when mixed with sand and road salt. Experts from the International Carwash Association also recommend a coat of wax for an extra layer of protection from the elements. Besides protecting your car, you'll also be protecting the environment. Professional car washes can save up to 20 percent of the amount of water you'd use by washing your car at home. They do this by treating and reusing their water, rather than releasing toxic chemicals and grime into the storm drains, which can often occur when you wash your car yourself. You can learn more about the environmental benefits of a professional car wash at washwithwatersavers.com.
Check your brakes. Your brakes will work harder once the icy conditions of winter set in. Make sure they are up to the task by bringing your vehicle into your mechanic for a thorough brake inspection.
Check fluids. In the winter, no fluid is more important than your coolant because, if you're out of coolant, you're out of heat. Your owner's manual will tell you how much coolant you need as well and provide the correct blend. It's also never a bad idea to keep an additional bottle of coolant in your car for emergencies.
Winter emergency kit. If you find yourself stranded by the side of the road, a winter survival kit can be very helpful. Include an ice scraper/brush, extra blankets, or clothes – including hats and gloves – snacks and bottled water, and a first aid kit. A small shovel can come in handy if you get stuck and a bag of cat litter can be used to provide needed traction for your tires.
Getting your vehicle ready for winter while temperatures are still mild is a proactive approach to preventive maintenance that helps ensure safety, reliability, and fewer unexpected repairs when severe winter weather strikes.  By planning ahead you can ensure that your family and your car will be in for a smooth ride all winter long.
We've done all the things suggested above, have you?
The giveaway has ended.
Disclosure: I am working with the International Carwash Association to share these tips. However, my opinions are entirely my own and I have not been paid to publish positive comments.