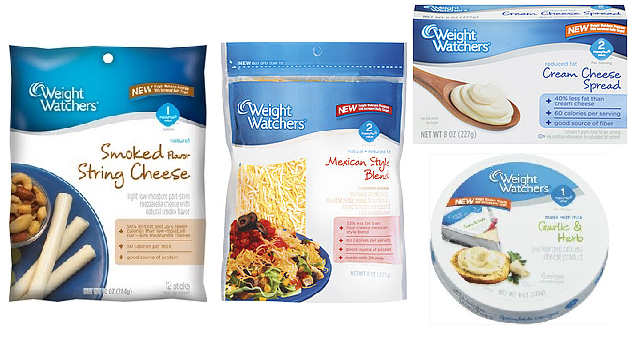 Product Name: Weight Watchers Cheese products
Product Information: As you may know, low-fat dairy is an essential part of a healthy diet, which is why the latest USDA guidelines encourage increased intake of fat-free or low-fat milk and dairy products. Luckily, now you have more delicious low-fat cheese products to choose from: Weight Watchers Cheese is introducing great new varieties, like the smoked light string cheese, and we would love to send you some to try.
And, with our recipe ideas, you could learn to enjoy cheese in new ways! For example, for a taste of Tuscany, simply fill hollowed-out large tomatoes with a mix of ripe olives, yellow bell pepper, zucchini, green onions and Weight Watchers Garlic and Herb flavor cheese wedges. Or add a twist to a summer classic and prepare your own soft serve by blending fat-free cottage cheese with low-fat Weight Watchers cream cheese, sugar, and fresh berries. Then spoon into a waffle cone for delicious cream-berry cones.
Purchase Information: You can purchase them in food stores and super centers nationwide.
My Thoughts: I've been on the Weight Watchers program for about 18 weeks now and I've lost 30lbs!! I'm so excited at how well I've done and I'm still going strong. I find that as long as I track and I have the proper foods in my house, then the weeks aren't so bad. We are a cheese loving family and there are usually a few varieties of cheese in my fridge all the time. That is why I was so excited when I was asked if I would review some of Weight Watchers cheese products. I was even more excited when the products arrived because they sent me a nice variety along with some yummy recipes.
Included were smoked and regular cheese sticks, garlic herb cheese wedges, shredded cheese and cream cheese. The first thing we tried were the cheese sticks. My daughter and I love to snack on them and she loved them just as much as I did. One of my favorite snacks in the afternoon is a cheese stick and a few crackers or pita chips and a few green olives. I know that sounds odd but I love the saltiness from the olives with the smoothness of the cheese and the crunch of the crackers. I've actually even had that along with a salad for lunch from time to time. I had not tried the Weight Watchers cheese sticks yet and I am happy to report that I loved them and so did my daughter. She has no idea how good they are for her and I'm happy she enjoyed them. Both the plain and smoked cheese sticks were fantastic.
I received some recipes along with my samples and one of them I knew would be great for the entire family, the Ice Cream Cone Fruit Salad. These were extremely easy to make and my girls had fun making them with me and the of course eating them too. All you need is Weight Watchers Cream Cheese spread, maple syrup (I used sugar free), waffle cones and some fruit. The recipe called for berries, bananas, mango, kiwi and blackberries but I used what I had on hand. I used bananas, strawberries and blueberries. Basically all you do is mix the cream cheese (4 oz) with the maple syrup (2 tablespoons) and set aside. Then cut up all the fruit and put it in a bowl. The alternate putting the cream cheese mixture and fruit mixture in the cones until they are full. It's like a lasagna in a cone! You can top with some walnuts if you'd like. That's it. Doesn't that sound easy? It is and it's really yummy too. We absolutely LOVED them! Oh and they are only 5 points each. Not bad for a yummy treat.
Next we tried the shredded cheese. My husband isn't really into eating whats good for him so I had to sneak this shredded cheese into his tacos. Guess what? He had no idea I swapped them out. The Weight Watchers Shredded Cheese was just as good as the one he normally uses. He still doesn't know I switched it for something healthier so please don't tell him.
And finally we had the cheese wedges. Oh boy, these were so good! The girls and I snacked on them along with crackers one afternoon. My girls love snacks as much as I do. They also love garlic so there was no pushing them to try the garlic and herb cheese. The cheese was creamy and full of flavor. This has become a regular at our house now!
Have you tried any of the Weight Watchers Cheese products?
Disclosure: I received free samples in exchange for my review. My opinions are 100% mine.