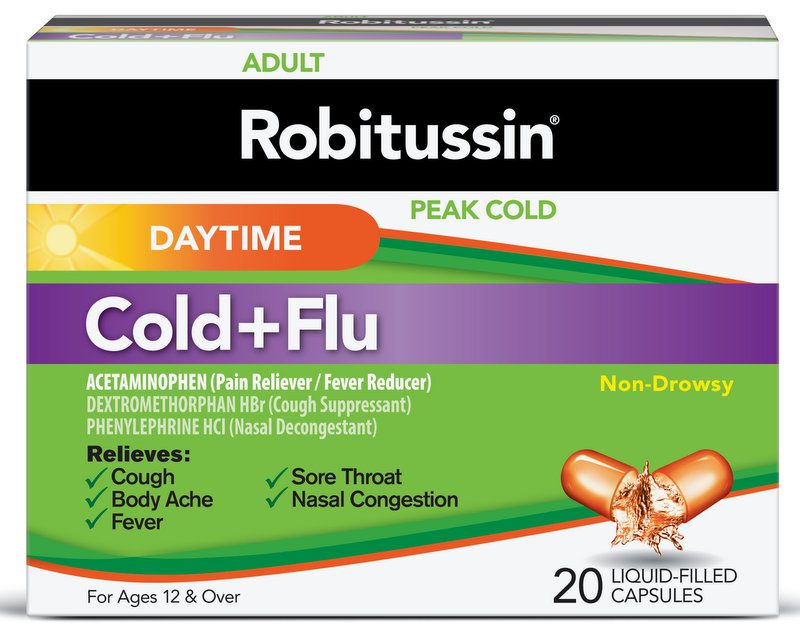 This post is Sponsored by Robitussin but my opinions are 100% my own!
In November my family and I took a trip to Disney World.  My parents joined us on this trip.  The last time I went on vacation with my parents I was about 6 years old so I was pretty excited they were joining us on the trip.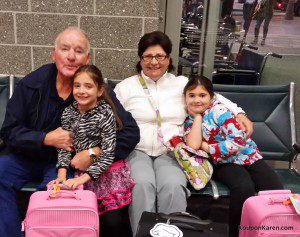 This picture was taken at 5am in the airport the day we left for our trip.  My girls and my parents.  My mother was pretty eager, my dad was having trouble waking up!
I was so busy preparing for this trip, I completely forgot to schedule flu shots for my daughters.  I never get a flu shot, but I always bring them for their shots.   About 2 weeks before our vacation, their doctor's office called to remind me to schedule their shots.  I was so happy she remembered so I made an appointment before our trip.  Then something very important came up that I had to attend to and I couldn't be in two places at the same time so I rescheduled their appointment until after our trip.
Boy was I sorry!
While on vacation, my dad was sick.  He had a fever, chills, body aches and more but he didn't tell us just how awful he felt and pushed through as best as he could.   Then the last day of our trip, my oldest work up feeling horrible.  We found some Robitussin at the hotel gift shop which gave her a little relief but our last day there started at 8am and didn't end until we arrived at home at 9pm that night.  It was a long day for her and she ran a fever all day along with body aches.  I was very proud of her by how well she handled it and she was a real trooper.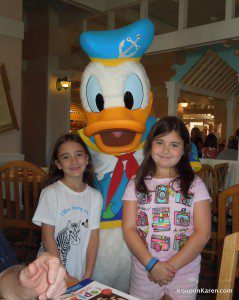 Despite how she may look in the picture, my older daughter (on the right) felt horrible during our character breakfast.   The Robitussin we gave her worked well but she also put on a happy face whenever a character came to our table.  Like I said, she was a trooper!
The Robitussin that we picked up at the hotel really helped get her through the day.   However, I don't even what to know what my husband paid for it, because it worked!
She ended up home for the next 3 days because she was pretty sick.  I took her to the doctor and not only did she have what we suspected was the flu, but also a double ear infection.  I suspect flying may have not helped with that part!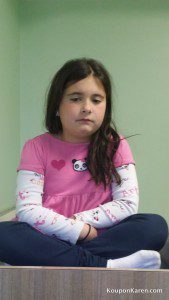 I snapped this picture of her while waiting for the doctor.  Oh how I wished I had been sick instead of her!
Two days into her being sick, I started feeling horrible.  And when I say horrible, I mean horrible.  My body hurt so  much that I could hardly find the energy to move from the chair to my bed.  I clearly had the flu and sent my husband to the store to get me anything he could find to help me feel better.
The next day my little one woke up feeling the same way.    At this point I was guessing we picked up something either on the airplane or in Disney.  I'm not a germaphobic so the thought of this happening before we left, never crossed my mind.  However, seeing my children as sick as they were and experiencing it myself, I really wished I had scheduled their flu shots earlier in the season to have possibly protected them from this.  But there is no way of knowing if that would have helped.
After our trip I was contacted by a Robitussin representative and she sent me some product to help our family get through this cough, cold and flu season along with some information.  I found some of it extremely interesting, especially after our trip and illness.
Did you know that….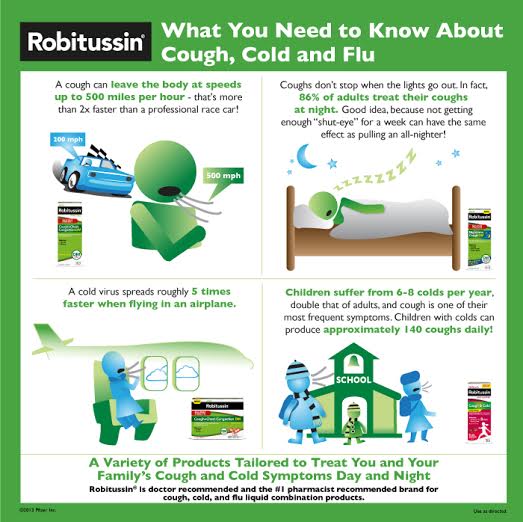 A cough can leave the body at speeds up to 500 miles per hour?   That's more than 2x faster than a professional race car!
Coughs don't stop when the lights go out.  In fact 86% of adults treat their coughs at night.  Good idea, because not getting enough sleep for a week can have the same effect as pulling an all-nighter!
A cold virus spreads roughly 5 times faster when flying in an airplane!
Children suffer from 6-8 colds per year, double that of adults, and cough is one of their most frequent symptoms.  Children with colds can produce approximately 140 coughs daily!
I knew germs spread faster on planes but had no idea they spread that fast!   I think the next time my family flies anywhere we'll be using more precautions and I will definitely make their flu shot appointments much sooner next year.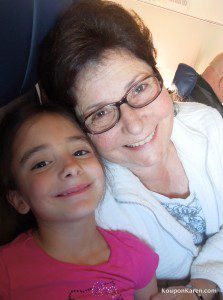 This is my youngest and my mom on the plane, probably picking up germs as I took this picture!
Robitussin has a variety of products to help my family and yours when they are ill and it's one brand we do use often.  Like I mentioned above, that's what my husband picked up for our oldest at our hotel in Disney World!   Because she is 9 now, she can use Robitussin Children's Cough & Cold Long-Acting which helps control cough for up to 8 hours.  While I've never found anything to really last that long, she did get some long-term relief from this but not sure it was 8 hours long.   And it also did keep her sneezing and runny nose under control.  So I'd say for the most part it did give her some relief to be able to rest her body, which is what I was looking for.    Children ages 6 and up can take this but you should always check with your doctor before giving them any over the counter meds.  In this case we had no choice since we didn't have many options but with her being a very healthy 9-year-old I wasn't too worried that my doctor would disagree with our treatment.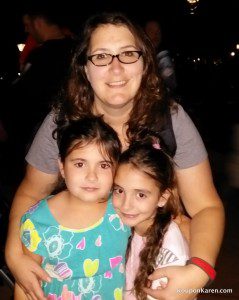 Robitussin has a bigger variety of products for adults that are tailored to your symptoms for day and night.   Shortly after we all were sick, my husband had to take a trip overseas for business.  He still hadn't fallen sick and was concerned it would happen to him either while traveling or once he arrived at his destination.  So he asked me to find him some medicine he could take with him, however it had to be in pill form so he could take it on the plane.  I sent him with Robitussin Cough + Chest Congestion DM Max Liquid-Filled Capsules.  That's pretty much what worked for me in liquid form while I was sick so I figured it would cover any illness he may have.  Thankfully he returned home healthy and didn't need anything.  But he was glad to have it on hand just in case.
Robitussin is doctor recommended and the #1 pharmacist recommended cough, cold and flu combination product in liquid formula and being a long time Robitussin user I totally agree with that.  It's been around for a long time and I've used it since I was much younger.  It's a brand I turn to all the time so I'm happy to recommend it to your family too!
At the peak of the 2012-2013 cold and flu season, over 47 million adults and children experienced cough symptoms – that's more than the total population of California!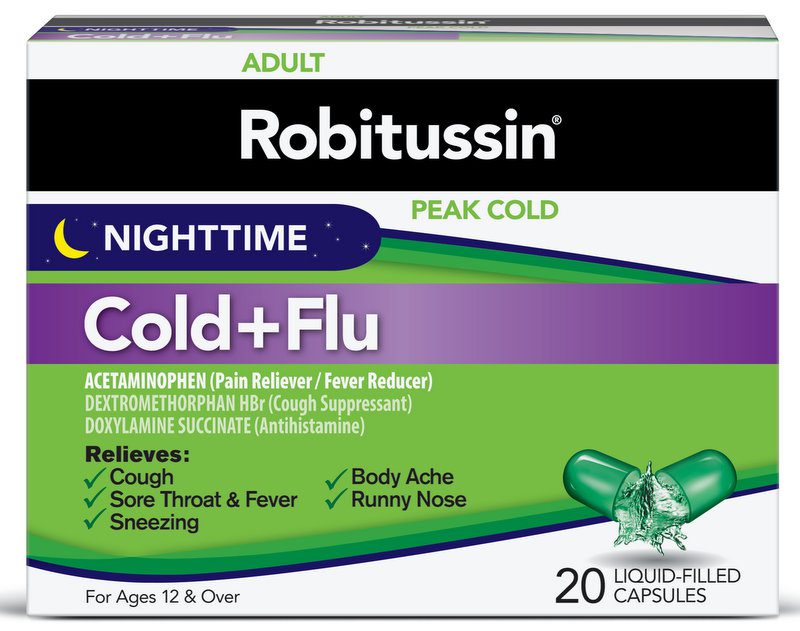 I'm still having some issues with post nasal drip and coughing at night so I've been taking Robitussin Maximum Strength Nighttime Cough DM for relief and it's been working amazingly so I will keep taking it until this is GONE.   And I've seen my doctor and she said to keep doing what I'm doing, it's just lingering for a lot of people.
If you are suffering from any of these symptoms look for Robitussin in your stores.  And if you haven't purchased it in a while the packaging has changed a bit but it still has the same coloring so don't miss it on the shelves!
Disclosure: I received a Free product for review. My opinions are 100% mine.