Do you know about the Snipping Tool on Windows??   I'm finding out that a lot of my blogging friends had not discovered it until I just happened to mention it.  It's a great time saving tool for bloggers.  I have no idea if Macs have anything like it but it's an extremely useful tool.
What is the Snipping Tool?  Well, it's a tool that snips a picture on a web page and then it easily saves it to your pictures folder.  You can name it what ever you want.  It's so simple and takes no time at all.
No more copying and pasting into Paint and then cropping and resizing.  That used to take me so much time that half the time I didn't even bother with the picture!  Now I snip pictures all the time.
If your not sure if you have it, just look in your accessories folder and you'll see "Snipping Tool".  I know it's on Windows Vista and Windows 7.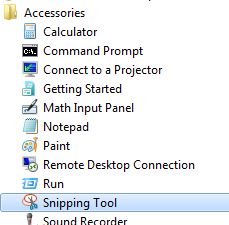 I usually open it up and keep it minimized so I have it when I need it.  When I find a picture I want to snip, I just pull it up and click on "New".  Then just snip the picture you want and click "Save".  That's it!  So easy huh?
Did you know about this?  I'm curious how many people did.
Don't forget, always name your pictures, it's good for SEO.