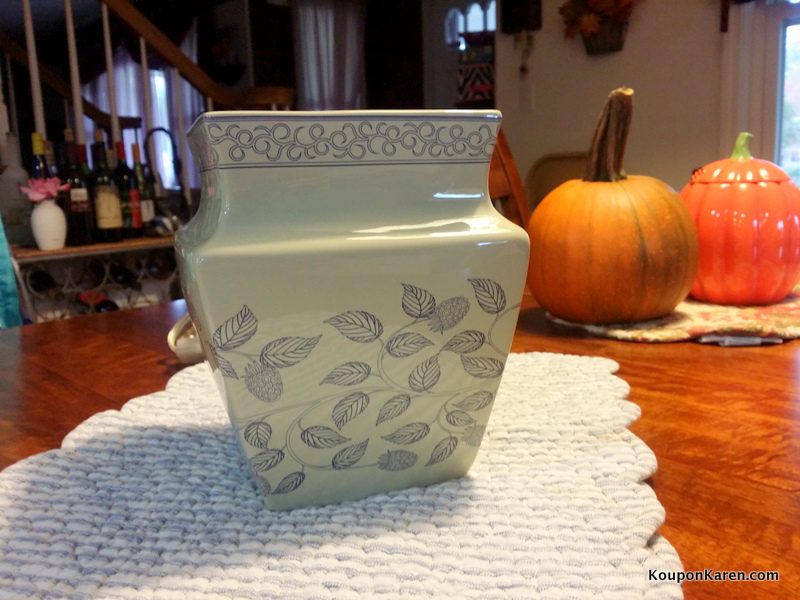 This post is Sponsored by Yankee Candle but my opinions are 100% my own!
The Yankee Candle Company, Inc., the world's largest manufacturer of premium scented candles, recently unveiled Scenterpiece™, the newest innovation in the wax melt category. Scenterpiece™ simplifies flameless home fragrancing into one easy process, allowing customers to enjoy and quickly swap out their favorite fragrances without the cooling, scraping or pouring involved with traditional tart warmers.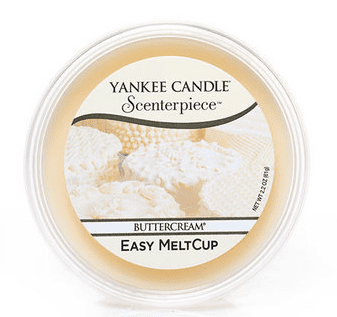 Plus they have a great selection of scents for the upcoming Fall season!
Apple Cider
Apple Pumpkin
Autumn Wreath™
Bay Leaf Wreath
Pumpkin Pie
Pumpkin Wreath
Salted Caramel
Silver Birch
Spiced Pumpkin
Cranberry Chutney
Kitchen Spice
Autumn Leaves™
Buttercream®
Farmers Market™
Harvest®
November Rain™
Pumpkin Buttercream
I absolutely LOVE the Scenterpiece with the Easy Meltcups.  Not only is it very pretty and will look nice in my house, but it's a safe way of having the beautiful scents of Yankee Candle that I love, in my home.  With the kids, I always worry about lighting a candle so this is perfect!
SCENTERPIECE™ – "Change your scent in seconds"
Price: $4.99 MSRP – Scenterpiece™ Easy MeltCups; $19.99 – $24.99 MSRP – Scenterpiece™ Warmers; $29.99 MSRP – Scenterpiece™ Deluxe Warmer
To learn more about Yankee Candle's new Scenterpiece™ collection, visit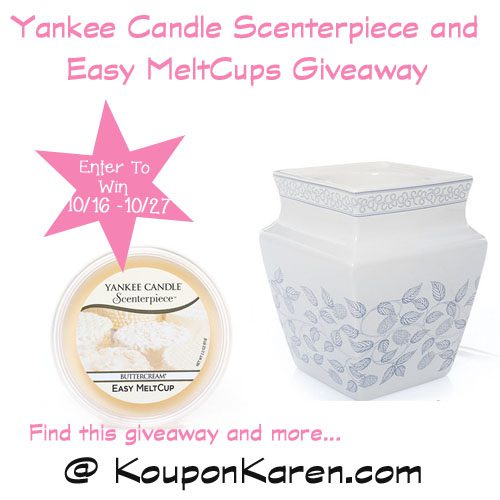 (1) Koupon Karen reader will win a Scenterpiece Warmer and two Easy MeltCups in fall fragrances.

To enter the giveaway, use the Giveaway Tools widget below. Email and feed subscribers will need to click-through to the site to enter the giveaway.
As a reminder, comments left on Facebook or Twitter will not be included. You must follow the instructions on the widget about the proper way to enter. Of course Facebook is in no way associated with this giveaway!
If you are looking for more giveaways, be sure to follow my Fun Giveaways Pinterest board!
Disclosure: I received a Free product for review. My opinions are 100% mine.