This post is Sponsored by YoCrunch but my opinions are 100% my own!
YoCrunch® has a new flavor in stores and it's already a huge hit with my girls!  Next time you are shopping for yogurt look for YoCrunch® with Trail Mix in both single serve 6oz cups and 4-pack snack cups.    It's great for breakfast, morning snack, lunch snack, after school snack and evening snack.   In case you didn't notice, I think it's a great snack for the kids and my girls love it.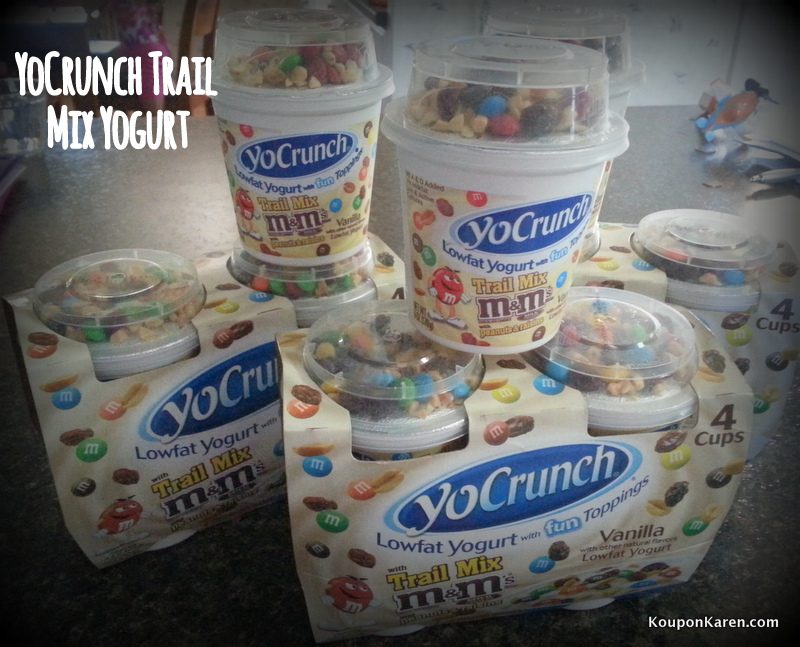 My girls love to snack but the snack has to be fun.  Trail Mix is one of their favorite things to have and its fun too!   I make my own trail mix so I can control what goes in it and they like when I add a little bit of chocolate to it.   So when our samples of the new YoCrunch® with Trail Mix arrived they were happy to see it since their was trail mix on top!   I'm delighted because it's a low-fat yogurt and since it has a little bit of 'fun' for them, they eat it willingly.  I'd rather give them a little trail mix with a few pieces of chocolate and some low-fat yogurt then a bowl of ice cream!
My kids come home from school famished so I try to have yogurt on hand as often as I can because it holds them over until dinner time.  The 4 packs of YoCrunch have the perfect size snack cups so they don't eat too much.    The yogurt alone is 80 calories and with the trail mix it's 140 calories.   The yogurt is made with cultured pasteurized grade A low-fat milk, sugar, food starch – modified, natural flavors, potassium sorbate (to preserve freshness), vitamin A palmitate, vitamin D3.
Yesterday morning when asking my youngest what she wanted to take to school for a snack, she really wanted one of these yogurt's.  She has some friends in her class that have peanut allergies so she asked me to take the cover off that has the trail mix and keep that at home so she could just have the vanilla yogurt in school and her friends would be safe.  I was so proud of her!
You should be able to find this in your local stores and if you don't see it, ask the manager to get it for you!

(2) Koupon Karen reader's will win 2 YoCrunch FREE Product Coupons.

To enter the giveaway, use the Giveaway Tools widget below. This is a new widget I'm trying and I hope you like it. Please let me know if you have any questions about it or problems with it! Of course Facebook is in no way associated with this giveaway!
As a reminder, comments left on Facebook or Twitter will not be included. You must follow the instructions on the widget about the proper way to enter.
Disclosure: I received a Free product for review. My opinions are 100% mine.