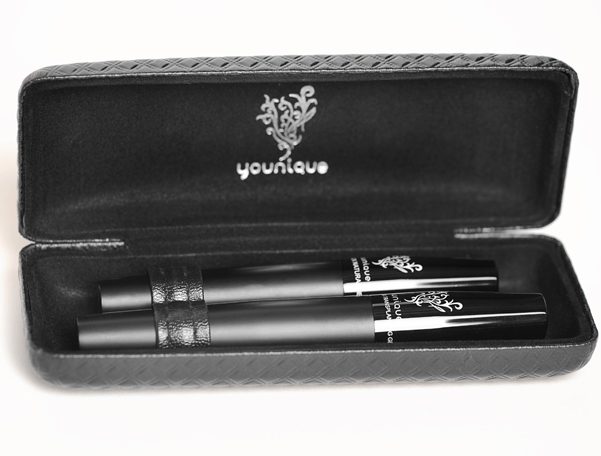 I found something amazing for my eyes.  Have you heard of Younique 3D Fiber Lashes?  I have very short eyelashes and they are also light brown so they seem even shorter than they are.  You can barely see them when I don't have mascara on.  But even with mascara on, they are still short.  My girls and my husband have long beautiful eyelashes.  I'm very jealous! I've always wanted longer eyelashes.
Earlier in the year, someone I know happened to mention that she worked at a salon applying eyelash extensions.   My face light up instantly!   I had been reading up on them and even told myself someday I'd try.  But they are very expensive to apply and then  you have to get 'fills' every few weeks.  But I told myself someday, I'd try them.
And here I was sitting with someone who does them and at the same time was telling me they were having a special for the new year and they were 'on sale'.  On sale still meant it was going to cost me $100 but I had some money put aside from the holidays and decided to give it a while.
I loved how they looked.  I really did!  I felt pretty with them on.  I didn't even have to put any other eye make up on because I felt my eyes popped out enough – and I felt pretty!
If you aren't familiar with eyelash extensions let me explain what I found were cons of having them.
It takes a couple of hours to apply them.  While this is relaxing time for me, it's still 2 hours of my already busy schedule.
You have to fill them every 2-3 weeks, which took me about 1 hour and cost me $40 a fill.
You can't rub your eyes.  It may sound silly but I always rub my eyes when I wake up in the morning.
You can't swim with them.  It wasn't summertime then so I didn't care.
In the morning sometimes an eyelash would stick to the bottom and it was uncomfortable when I opened my eyes.  This could have been a result of how they were applied, but either way it was uncomfortable.
I couldn't let the water in the shower run over my face because you can't really wet them that much.  Plus when I do that I then need to rub my eyes, which I can't do.
You don't wear mascara with eyelash extensions – but you don't need them.  However I did still wear eyeliner.  I had to use a q-tip to remove my eyeliner rather than a cotton ball like I did before because I couldn't rub my eyes, and I tried really hard to not get the makeup remover on the eyelashes so it didn't break the bond.   It was very hard to get them entirely clean.
If you decide to not continue with the fills, you have to pay to have them removed or wait for them to all fall out.  This meas you could be left with 2-3 random long lashes that really stick out.  I was happy to wear glasses because they weren't as noticeable.  I ended up pulling the last few out, which you aren't supposed to do.
But I LOVED the way they looked.   However, all those cons were too much for me.  After one fill I let them grow out.  Plus it cost a lot of money.
Younique 3D Fiber Lashes
And then I started hearing about these 3D Fiber Lashes.  I was curious.   The cost kept me from trying them but then I read a review that someone I know did and watched her video and they looked super easy and quick and then you can wash them off at night!  I thought that was perfect and after sitting on the idea for a week or so, I finally purchased some.
It took about 4 days from order to receipt so I was pretty impressed.   Thankfully the day they arrived, I hadn't applied any make up yet and we had somewhere to go so I pulled these bad boys out and used them.
I was instantly hooked.  The results were amazing.  I mean, seriously they were amazing.  And it took less than 5 minutes to apply.   Applying the 3D Fiber Lashes was as easy as putting on mascara.  SERIOUSLY!
Do you want to see how awesome they look?  And how sad my eyes look without them?  I took some pictures before, during and after to show you just how great these 3D Fiber Lashes are.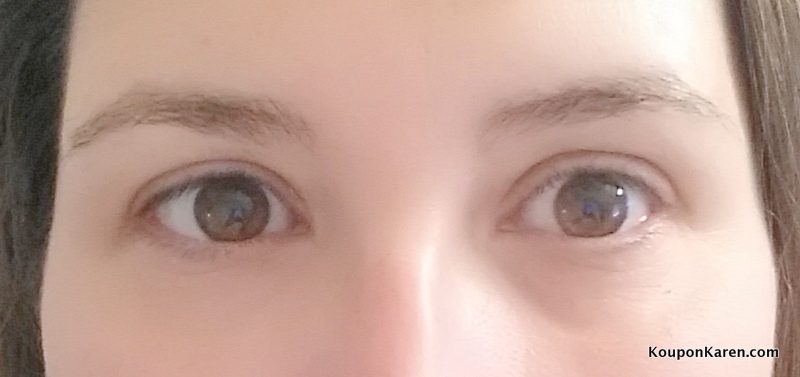 This is before anything.  I have no eye make up on.  See how short my lashes are and how light they are?  You can barely see them.   Whenever I go all natural or after I wash my eye make up off, my husband always tells me I look tired.   I tell him, no it's because I have no eye makeup on!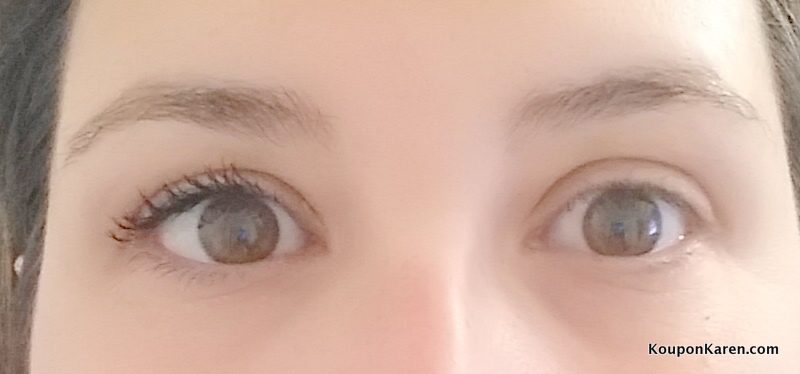 See my left eye?  That is after I apply the 3D Fiber Lashes.  See the HUGE difference?!  And this is without any mascara too.  You could put it on underneath I didn't just so you could see exactly what the 3D Fiber Lashes do.  Big difference.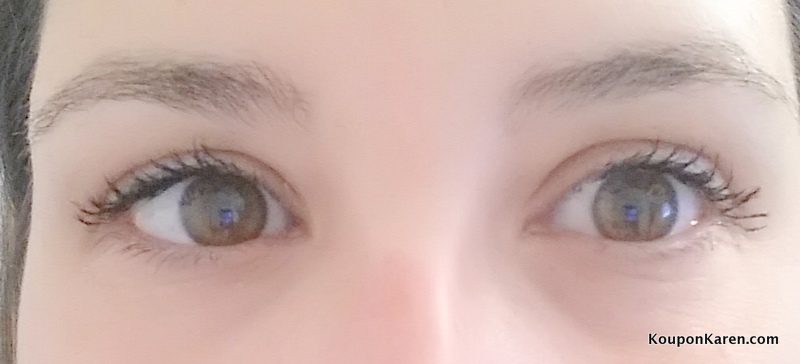 Now I have them on both eyes.  I didn't put them on the bottom lashes.  So you can see how light my natural lashes are on the bottom, that's how light they are on top too!  And short.   And I can make my lashes as long as I want with these 3D Fiber Lashes!!!   I didn't curl them – this is exactly how it looks after applying.  I absolutely love Younique 3D Fiber Lashes.  And if I put more on, they would be even longer.  But this is good for me, for now!
It's a simple process that takes only 3 steps:
Apply the Transplanting Gel
Apply the Natural Fibers
Re-Apply the Transplanting Gel
If you want them longer and thicker, just repeat the steps.  But you must re-apply the transplanting gel after each fiber application to keep them on.  Otherwise they will fall off.
Do you want to see that again?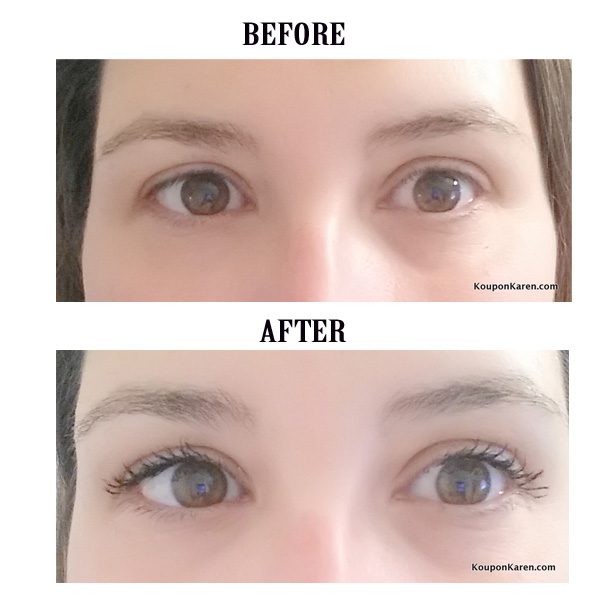 The 3D Fiber Lashes are $29.00 for the kit.  The kit contains the Transplanting Gel and Natural Fibers and a nice carrying case.  This is a lot less than getting eyelash extensions and it will last you a lot longer.   These actually cost less than a fill!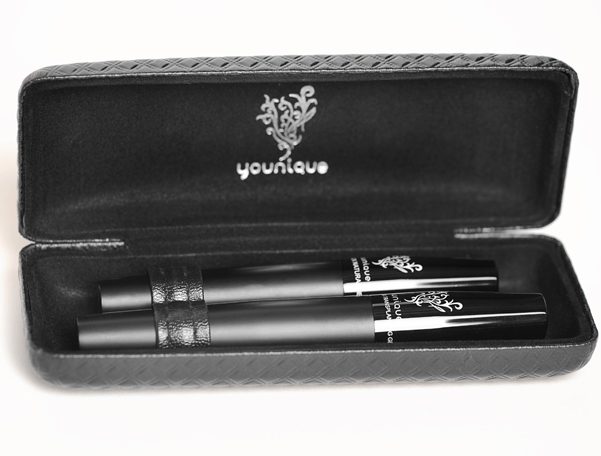 What do these fibers look like??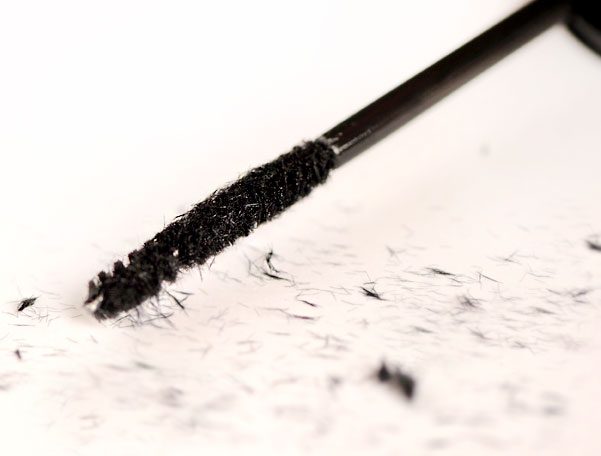 The come on a wand just like a mascara wand.  But they don't fall all over the place.  Seriously you have to try it to believe it.
Want to try them?  CLICK HERE to purchase Younique 3D Fiber Lashes.   $29.00 for the set.
Are you interested in earning free and half-price products? You can if you host your own Younique Party.  The best part is hosting a party is incredibly easy – and you can do it entirely online!  CLICK HERE to host your own online Younique Party.
Disclosure: I loved these so much that I now sell Younique products, including the 3D Fiber Lashes.   If you purchase from my link, I will earn a small commission.   If you want to become a Younique Presenter, I'd love for you to join my down line.