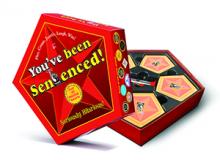 Product Information: The You've been Sentenced! game has family members from 8 to 88 laughing hysterically at the crazy sentences they create and have to defend. Now winner of 8 national awards, it's a bargain entertainment value during tough economic times! With 540 cards and over 2,500 words you can create billions of sentences and just like many games in your game closet it will last for years and years bringing the cost of each laugh to a fraction of a cent. If you are looking for a frugal purchase look no further.
Age group: Ages 8 and up
Purchase Information: You can purchase this at Amazon
, Barnes & Noble, Toys R Us, Kohl's, and 1,000+ independents nationwide, Australia, New Zealand, Canada, Singapore Malaysia, and Thailand
Price of product: You've been Sentenced! is $24.95 and the Add-on-Decks are $7.95
My thoughts: Oh My what fun we can have with this!!! Basically what you do is you deal the cards and you have to make up sentences using the words on the cards and only those words. WE had such a great time playing this.  The imagination really gets going and you can come up with some great sentences.  Add a few drinks to the mix and it would get very interesting! I'm looking forward to when we have friends over for again because we should have a lot of fun with this and a bottle of wine!
Keep this in mind when making your holiday gift shopping list!
(This product was sent to me at no cost so I could give an honest review of it and my opinion was not affected by this.)