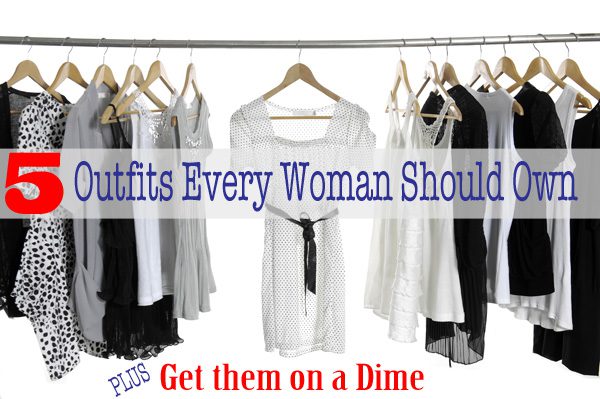 If you are like me and are not a woman into fashion, figuring out what exactly you need in terms of clothes can be overwhelming and a bit scary since you don't really know what to buy or how much to spend.  And of course, I don't want to overspend on anything I buy.  So the first thing I recommend you do, is look online for coupons like nordstrom coupons to make sure you can get the best deal you can!
5  Outfits Every Woman Should Own and How to Get Them on a Dime
Even if you know fashion, you may be missing the basics every woman should own. You can easily build the basic outfits and save money with just a few easy tips!
The Interview Outfit
Even if you don't work outside the home, you need this outfit. It can double as a funeral or court outfit, if you ever need one.
The outfit consists of:
Slacks or a dressy skirt that is around knee length
Flats or a low heel
Basic shirt
Cardigan
You can add accessories, like a simple necklace and stud earrings, but the basics of this outfit remain the same.
To get it for cheap:
The skirt or slacks can be bought at a consignment or thrift shop, because these don't usually go out of style very fast. You can find a nice pair of slacks at Goodwill for as low as $7. Flats or a low heel are a basic shoe for many outfits, so splurge a bit and go to a retailer that you trust and that is comfortable. Even if you spend $50 on a pair, remember that they can be worn with many of the outfits listed here. Get them in a neutral color so that they can go between outfits.
A basic t-shirt can be found at Target for $6 on the sale shelf. You can get it in white, black,brown, red, or blue to go with multiple outfits. A cardigan can be found at Target or even a thrift shop, depending on what you want. They will run you anywhere from $10- $30, but they can be worn across outfits, too.
The Wedding Outfit
Your little cousin is getting married and you have no idea what to wear. This one is easier than you think and this outfit can then be worn to church or a reunion.
The outfit consists of:
A summery dress
Acardigan (use the one from the above outfit)
Flats, low heel, or sandal
A summer scarf
To get it for cheap:
With this outfit, you really only need to purchase a dress, which you can get just about anywhere. Check Ross or Stage for dresses on sale, and pair it with the cardigan and flats from the above outfit. For a summer scarf, that can make a great accessory to any outfit, get a piece of fabric and make one yourself for as cheap as $2 (check the sales bin at fabric stores) or buy one already made at WalMart for $4.
The Casual Date Night Outfit
You and your significant other may have a date night planned. If it isn't a dressy affair, try this great date night outfit.
The outfit consists of:
The plain t-shirt
The summer scarf
A pair of skinny jeans
Flats
To get it for cheap:
Buy one of those cheap, basic t-shirts at Target or use the one you already have and pair it with your cute summer scarf, your neutral colored flats, and a pair of skinny jeans. Hit up Old Navy or Goodwill for some cheap skinny jeans that will last.
The Shopping with Friends Outfit
Shopping with friends means you want something cute and comfy. You can use many of the pieces from above, but you probably want something different. Try this for a new outfit with pieces you can mix and match, and yet still won't spend too much on.
The outfit consists of:
Leggings
A mini skirt
A plain v-neck shirt
A blue-jean button up
Large necklace
Wedge heel or sandal or a low-cut boot
To get it for cheap:
The leggings can be found in bright colors and prints, or basics, for as low as $5 in the footwear section at Target. Hit up the sale rack for a plain v-neck shirt and splurge just a bit for the blue jean button up. The mini skirt can actually be made from two yards of stretchy fabric, which you can get at the fabric store for as low as $3. Make it into a simple tube style and wear it over the leggings. Leave the button up unbuttoned and roll up the sleeves. Buy a necklace at a garage sale or thrift shop- the larger and funkier, the better! And splurge on the heels, sandal, or boots- you can wear them again and again!
The Dressy Event Outfit
This is the outfit you will need to do from scratch and probably cannot use any of the pieces from above. IT is great for dressier weddings, corporate events, and parties.
The outfit consists of:
A cocktail dress
Sheer pantyhose
Heels
Jewelry of your choice
To get it for cheap:
Burlington Coat Factory, Ross, Stage, and even Target have cocktail dresses that will not cost you more than $30. You need a good cocktail dress, and should get one that fits you well and is a classic style that can be worn again and again. If this is the only cocktail dress you own, get it in black. The little black dress never goes out of style!
Pantyhose can be bought as cheap as $2 a pair, but buy and bring a backup because the cheap pairs tend to rip easily. Splurge on a great pair of basic black heels in a style and height you love. They can be added to any of the above styles to make them dressier at any time.
So look through your closet and see what you have and then go shopping!  Have fun!!