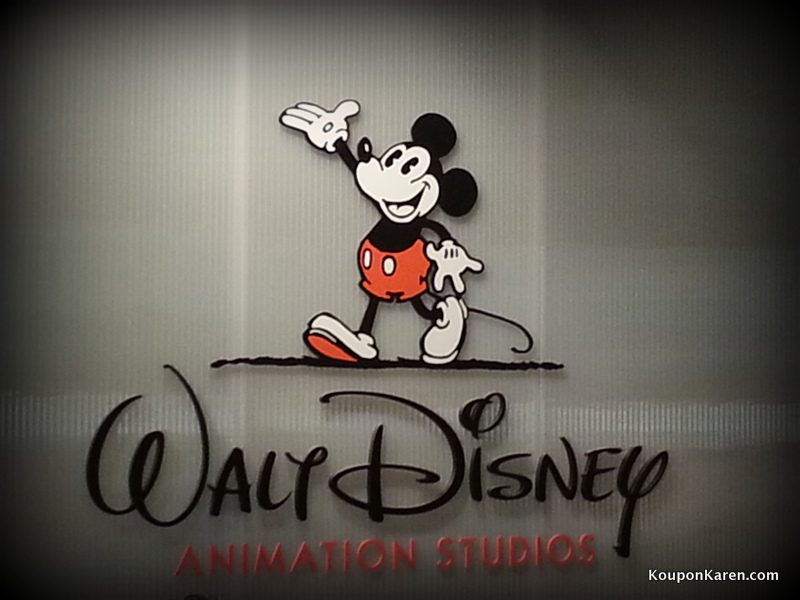 Disclosure: This event and trip to LA was an all expense paid journey sponsored by Disney.  All thoughts, experiences are 100% my own!
As you already know, in August I spent a few days in Los Angeles California on a media event.  I saw the premiere of Disney's PLANES and had some other fun adventures.   One of those including taking a trip to the Disney Animation Research Library (ARL) and the Vault!   It's location is so top-secret that they had to blind fold us so we didn't know where we were going…. OK no they really didn't do that however I think they drove around in circles so we couldn't find our way there on our own.  LOL

Photo Credit: ©Disney
Why is this place such a secret?  Because it houses the Disney Vault which includes original images, artwork, props and other things that were used to make the Disney movies….. the first ones and the most recent ones it's all there!  Not to mention all the awesome equipment that is used to do all the Disney Magic.   And I really do believe in the magic of Disney so I think there was another area of the building that we didn't see, that holds some of that magic and Tink's fairy dust!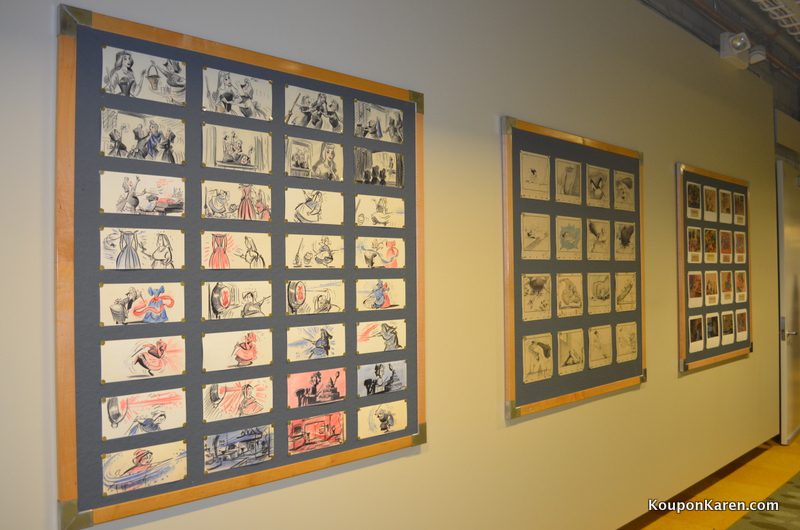 Photo Credit: ©Disney
It actually used to be known internally as the morgue (where everything goes once they are done using it) but they eventually realized what they had there was very valuable because Disney is such a BIG deal and in 1989 they took everything out of the basement and put it into the warehouse and is now carefully preserving everything!   This building holds the largest collection of animated art and I couldn't believe I was standing there listening to all of this!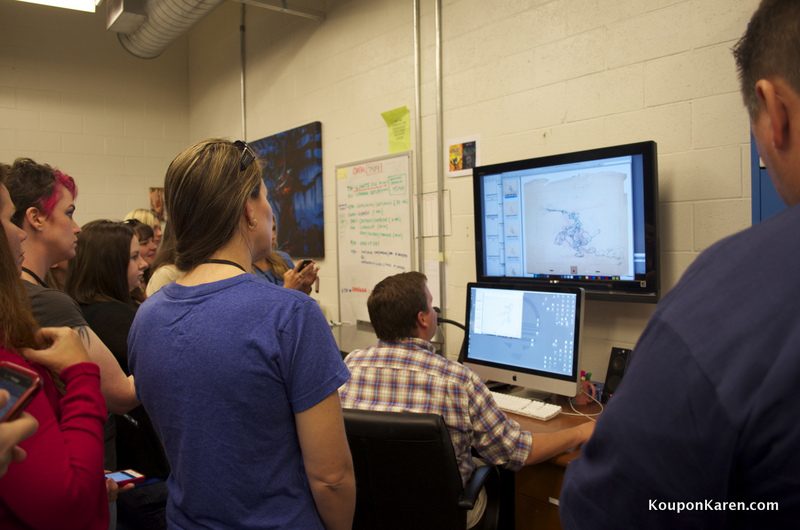 Photo Credit: ©Disney
We received a tour of a few departments and got a little (I say little because they do so much there that I know they couldn't possibly share it all with us!) of what they do including when they re-release the movies and make them better.  They actually take pictures of all the drawings that they pull out of the vault on a 240 megapixel camera that acts sort of like a scanner.  It takes 2 minutes to take one picture because it's so large!  Once they have it in the computer then can then work their magic.  But someone (or a few people) have to actually take each and every one of this images.  Imagine being in charge of a project that big!
They have another camera that they use as well which is considered more of an instant camera and that one is 60 megapixel's.   They can capture about 1000 images a day and have captured 800,000 images in 3 years with that camera! That's a lot of images but if these older movies were all drawn by hand, then there must be hundreds and hundreds of them.
I stood there listening to all of this thinking about how I go see these Disney movies (old and new) and never really think about what work goes into making them.  Especially the older ones that they've fixed up.   Once they have the images in the computer, they can go back and touch up anything that may not of photographed well, or perhaps if there are any marks on the image whether they are old or new and even brighten up the colors.  But the drawing is all still original, just "fixed" a little with some hi-tech equipment.  It was pretty cool!
And after all this is done, there is one person in charge of quality control and they check every single image to make sure it's just right.   The person with that job must sit there and watch a movie and know that it looks that good because they made sure it did!  Pretty cool.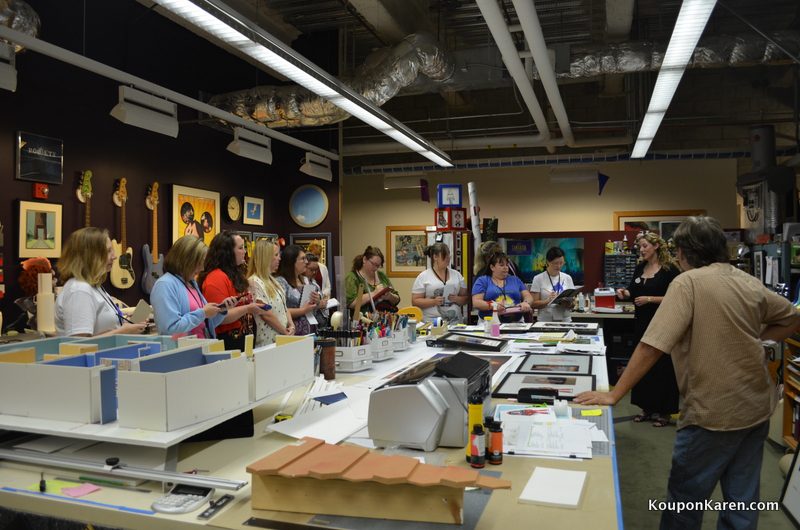 Photo Credit: ©Disney
Another area we toured through was where the Design Team worked.  They are the group that pulls the work that is used in all sorts of projects including books and the traveling Disney museum.   There's a new book coming out soon that they recently worked on and I can't wait to see it and share it with you all!!
This is the only room in the building where you'll see pencils on the tables.  They are there because they don't use originals, they use all copies.  So when the original is copied it may need a little touching up so they can do that with colored pencils and such.  Each image needs to look perfect for the project and they make sure it does!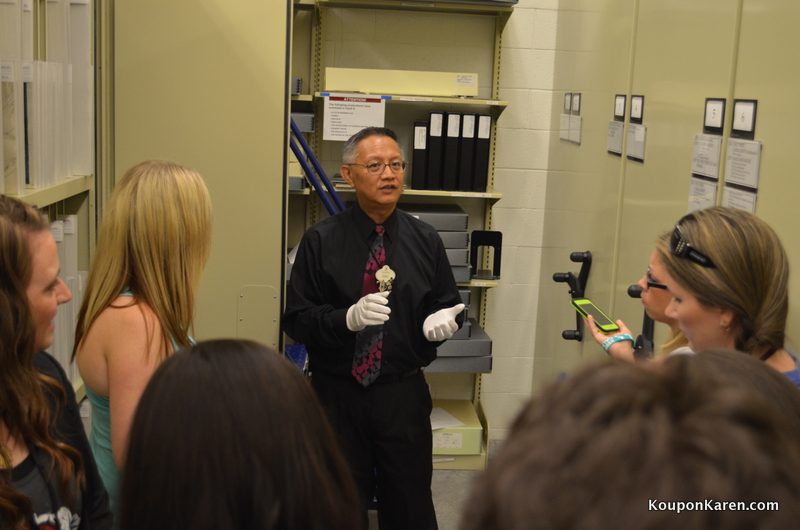 Photo Credit: ©Disney
Then we finally stepped into one of the Disney Vaults.  The first thing I noticed was it was a little cold inside this room.  That's because they keep the temperature more on the cool side to preserve everything in there.  The history in this room was amazing and they do their best to preserve it, including freezing out anyone who's in that room for a long amount of time.  But that didn't make me want to leave, I wanted to hear as much as I could about it.
Doug, who has worked at the ARL for 23 1/2 years gave us a tour of the vaults – the vault that houses Walt's movies!!  I was so honored to be standing in the room with all that history!   The images and items are all sorted and put in acid free materials to preserve them.    Animators will visit the vault to get inspiration for movies they may be working on .  When they do, they have to wear white gloves so they don't get any finger prints on the images.  They don't always like it but that's the rule.   Of course we didn't get to touch anything while we were there!
There are lots of old story boards housed there which were used more often years ago, then they are now.  Before they started writing scripts, they would pitch their movies by using story boards with pictures and captions.  So all those story boards (or most of them) are kept there nice and safe.
Our last part of the tour was a question and answer session with Lella Smith who is the Creative Director at the ARL.  While chatting with her, we were able to view original images from the making of The Little Mermaid!!!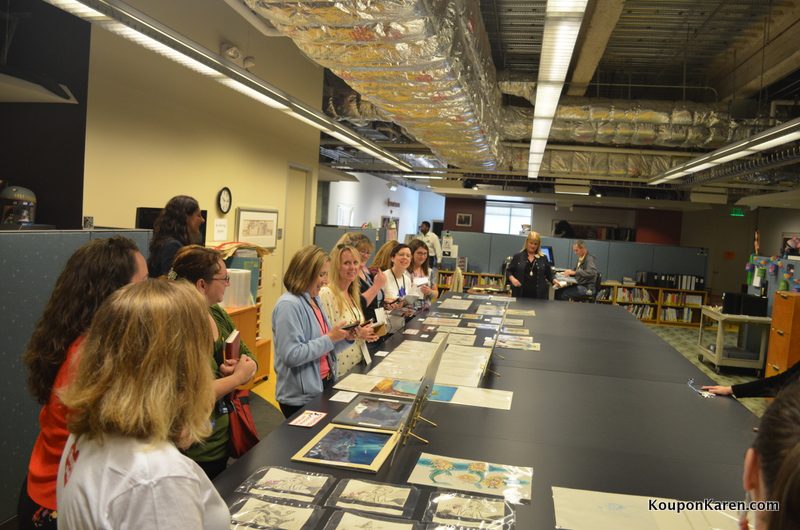 Photo Credit: ©Disney
It was so cool to see because some of them were from before they even started filming.  Did you know that Ariel was originally drawn as a blond?  She sure was!  But after many edits and changes they settled on her being a red-head (which I think was the right choice!).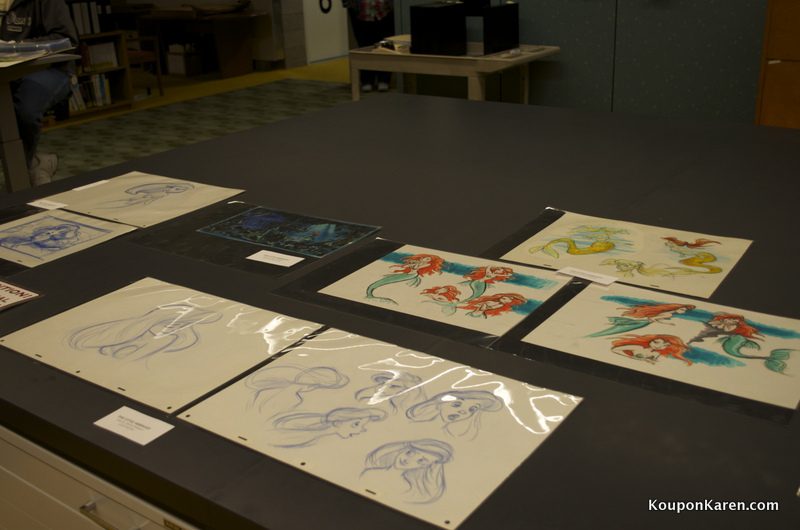 Photo Credit: ©Disney
Ursula also changed a lot from the first drawing.  I stood there and was just amazed at these images because again, we don't really think about what goes into making an animated movie and how they got from point A to the final result.  These images showed us some of the process in which it happens, and I just felt so lucky and blessed to be there and see all of this.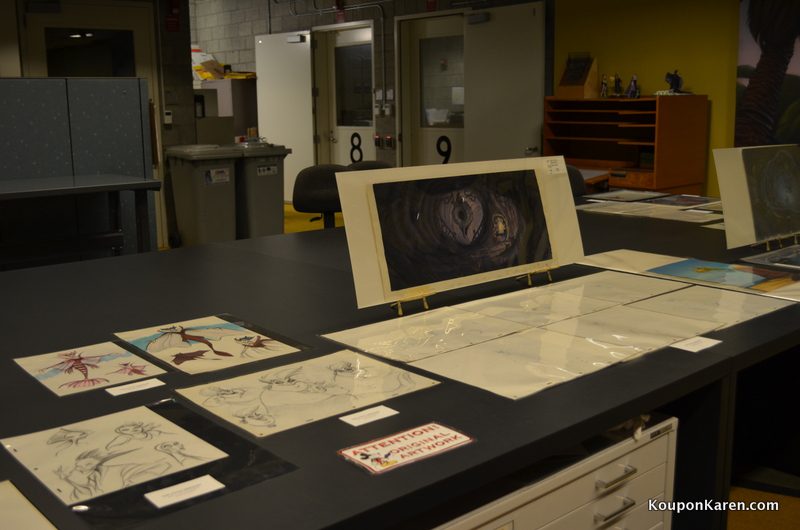 Photo Credit: ©Disney
This experience was just amazing and I am so thankful for Disney for giving me the chance to see all of this and share it with my readers.  It was something that I will always remember and be grateful to have been a part of!
If you missed my other posts about my Disney Planes and Little Mermaid Adventures check them out below:
Interview with John Muskar and Ron Clements, The Little Mermaid Writers and Directors #LittleMermaidEvent <
Super Buddies DVD Review and Meeting Rosebud in Los Angeles #SuperBuddies
Disney Little Mermaid Consumer Products Preview #IHeartAriel
Disney Planes Flies into Theaters Today August 9, 2013  Planes Movie Review
Walking The Red Carpet at #DisneyPlanesPremiere
All images in this post are copyright of Disney and I was given permission to use them.
Disclosure: I received a FREE Trip to Los Angeles to attend the #DisneyPlanesPremiere and #LittleMermaidEvent.   And even though there was a lot of Disney Magic happening, My opinions are still 100% mine.