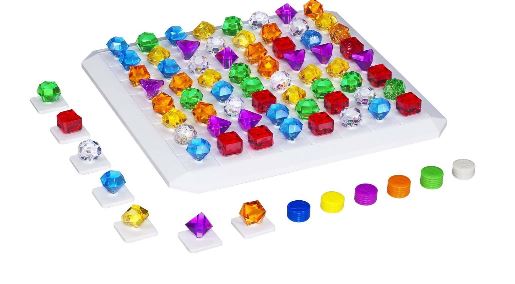 If you're in the market to add a new title to your game closet this spring, Hasbro has quite the gem for you.  Hasbro Games brings PopCap's addictive digital game to life in this all-new face-to-face version! Jumping off the screen into your living room, this three-dimensional BEJEWELED game comes complete with 91 shiny, sparkly gems that players slide and swap. Match three, four, or five gems in a row to earn coins. Try and collect three color sets of coins to win! Plus, each game comes with a free download for the BEJEWELED 3 app, so you can take your game on the road for anytime fun.g
My girls LOVE Bejeweled and they love Jewels so needless to say they were very excited when this game arrived.  It's even more fun than the app game because we can all play together.  And since they are girls, they use the gems for other things as well.  My almost 6 year old loves to use them to count, add, and make patterns.   So it's a great learning tool as well!
This game is for ages 8 and up and 2-4 people can play it.  However, my almost 6 year old really loved playing it (she plays Bejeweled on my iPad so she knows the game) and she even played it alone a few times.  It really is a lot of fun and a favorite of ours right now.
This game is available now and retails for $19.99 where toys and games are sold.
Disclosure: I received a Free product for review. My opinions are 100% mine.