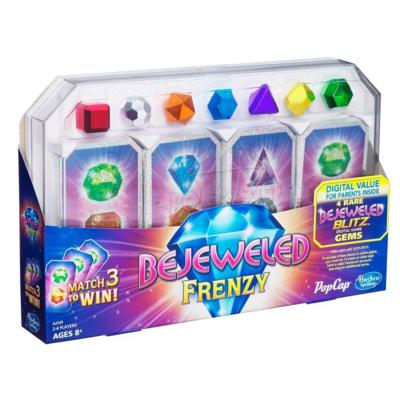 This post is Sponsored by Hasbro but my opinions are 100% my own!
Following on the heels of Hasbro's face-to-face BEJEWELED game comes BEJEWELED Frenzy.   It's a sparkly flurry of a card game that has you racing to match gems and build the largest stack of cards. Match three gems in a row on the cards to collapse your stack into one pile and collect Boost Gems to score the most points to win! The game comes in a travel-friendly case for easy grab-and-go play.  It also comes with a link to redeem four rare gems that can be used in the BEJEWELED Blitz online game. To access the digital features, you must be 13 years or older and have a valid Facebook account. Additional terms and conditions apply to the digital features offered.
I was addicted to Bejeweled at one point.  I played it on my computer and even on my iPad.  I used to dream of matching 3 like jewels I played it so much!  Admit it, you did too right?  And perhaps you still do??   My girls both like it too so when the Bejeweled Frenzy card game came, they immediately wanted to play!
I love that it comes in a nice heavy-duty plastic case for easy storing and traveling.   It would be great to take on picnics and even to the beach or a restaurant!  The directions are pretty straightforward and easy to follow.  It even comes with illustrations (I needed them!).
The object is to get the biggest stack of cards and also collect as many jewels as you can.   There are only 7 jewels (boost gems) and you get those by being the first to match that those jewels.   It's a great matching game for little ones and seriously my 6-year-old caught on as fast as I did!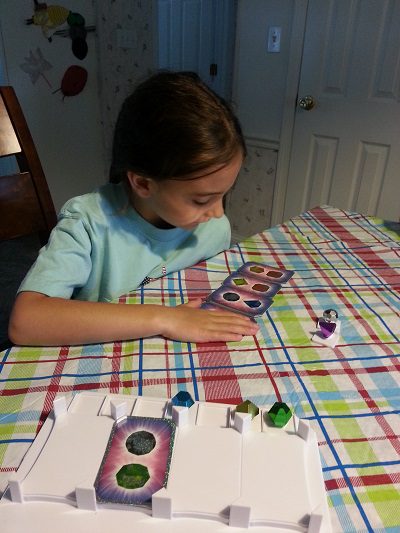 We played a few times just her and I and it was fun watching our stacks get higher and higher.  You can play with up to 4 people at a time but the more you have, the faster the game goes.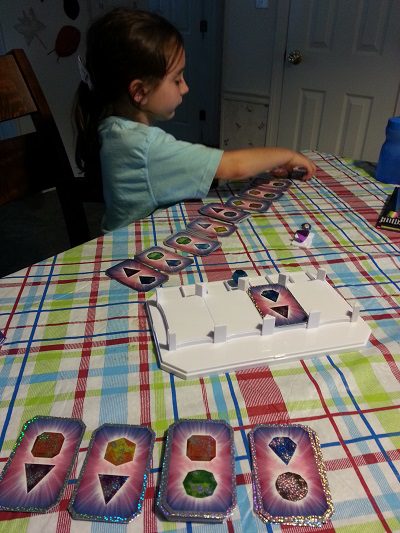 In the picture above she had a long row of cards, but all it took was a few matches and she easily stacked most of them up.  Definitely one of my favorite games right now and looking forward to playing more with them on rainy days this summer.
This game is for anyone ages 8 and up but my 6-year-old loved it.  She loves Bejeweled and already understood the concept, which I'm sure helped.   If you want to pick it up for some rainy day fun this summer you can find it online at HasbroToyShop.com and where games are sold for about $14.99.
Check out or other Hasbro Game reviews!
Disclosure: I received a Free product for review. My opinions are 100% mine.