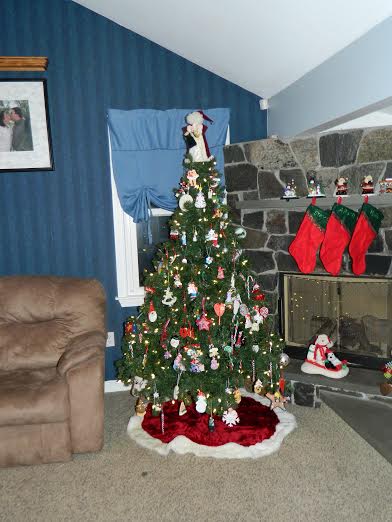 I love decorating our house for the Christmas Holiday, and I especially love decorating the tree.  The first year my husband and I were together we didn't have much to decorate our tree with nor did we have a lot of extra cash to buy tons of ornaments.  My mother in law gave us a bunch of glass ornaments and we bought a few things and just did with what we had.  We didn't leave near any family so really no one even saw my tree but I was very proud of it.
Since they I've slowly added to our tree and now we have a lot of ornaments.   About half of them have meaning to them and I love that.  Each year we get a new ornament with the year and our names on it.  This year our ornament came from Ornaments With Love.  The girls get very excited whenever we get our new family ornament. I have no plans on decorating my tree any other way because it is the perfect tree for us.  But if I could have a 2nd tree in my house I'd have fun with it and decorate it completely different than our 'main' tree.
I love looking through Pinterest for ideas and inspiration.  When I did a search for Christmas Trees today, I saw some absolutely beautiful trees.  There are some talented people that really get into decorating them and they probably spend hours and a lot of money searching for the perfect ornaments.   I was browsing through christmaslightsetc.com and found a lot of great ideas to possibly re-create a perfect tree like those I saw on Pinterest.
The first thing I noticed is there are Christmas trees in all sorts of colors.  I've seen white trees and blue trees before, and of course green trees.  But I've never seen pink trees and red trees until now.  Another thing I noticed is a lot of them have themes in the way they are decorated.   And you can tell if there are children in the homes of these trees because some of them are full of breakable items.  And then others have fun decorations that are probably being enjoyed by children.   Some are decorated in a modern design and some classic.  There is no right or wrong way to decorate a tree and you can find all sorts of ways to decorate yours.
How do you decorate your tree?