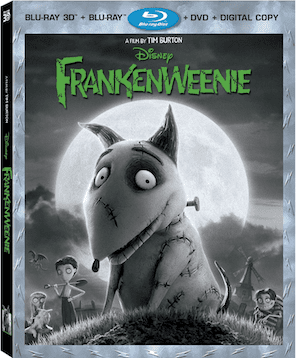 On January 8th, Disney will bring Frankenweenie to life on 4-Disc Blu-ray. We didn't see this when it was in theaters so I'm excited to see it. I heard it was good!  My oldest gets scared easily and she felt this would be scary but I really don't think she wouldn't of liked it.  But I wouldn't drag her there and since they come on Blu-ray and DVD so quickly now, I figured we'd wait to see it.
Did you see Frankenweenie??
About Frankenweenie
A must-add to any Tim Burton collection, the hilarious 3D stop-motion animated masterpiece is filled with quirky characters and unexpected twists. Boasting an electrifying variety of bonus materials, the 4-Disc Combo Pack (Blu-ray 3D + Blu-ray + DVD + Digital Copy) includes an all-new original short "Captain Sparky vs The Flying Saucers"; an exciting behind-the-scenes featurette with Tim Burton "Miniatures in Motion: Bringing 'Frankenweenie' to Life"; a showcase of the film's touring exhibit, "'Frankenweenie' Touring Exhibit"; Tim Burton's live-action short of the same name, and more.
The Blu-ray Combo Pack's spectacular picture and sound enhances the tale of a boy who uses the power of science to bring his beloved dog back to life … and a whole town faces the unexpected and electrifying truth of what happens when monstrous experiments run wild!
For more information about "Frankenweenie," I suggest you Like the Frankenweenie Facebook Page and visit the Disney Website!