This post is Sponsored by Hasbro but my opinions are 100% my own!
Today is the 10th Day of Karen's 2013 Holiday Gift Guide and today's pick is the Easy Bake Ultimate Oven!  In case you haven't noticed, they've redesigned the Easy Bake Over and now it's the Easy Bake Ultimate Oven!  I love the new modern design and they did more than just change the look of it, they changed how it worked too!
Holiday Gift Idea – Girl or Boy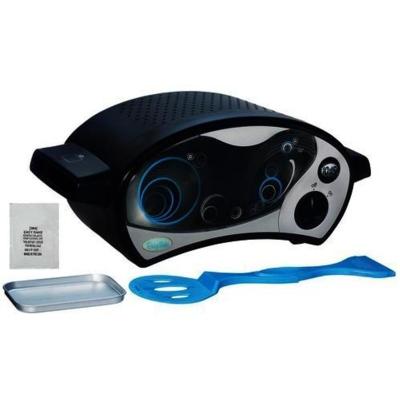 I've noted this as a gift for a Boy or a Girl because now that it comes in black as well as purple, it's a great gift for a boy too!  Boys like to cook and I don't think there is anything wrong with giving the Ultimate Easy Bake Ultimate Oven to a boy for Christmas and I would!    If cooking or baking is something that they enjoy then I'd be happy to encourage it.  My daughter's friends that come over love playing in their kitchen and pretend cooking – boys and girls!
They not only changed the way it looks but they also changed the way it works.  No more light bulbs to cook your food.  It now heats up to cook it instead.  And there is a much bigger variety of food to choose from as well.    You can use any of the mixes that are made for the Ultimate Oven.   This includes the:
Chocolate Cake Pops
Red Velvet and Chocolate Whoppie Pies Kit
Cheese Pizza Mix
Chocolate Chip and Pink Sugar Cookies
Devils Food Cake & Strawberry Cake Mix
Party Pretzel Dippers
Red Velvet Cupcakes
About the Ultimate Easy Bake Oven
The special edition color of this Ultimate Oven commemorates the 50th anniversary of Easy-Bake cooking fun! You'll whip up amazing goodies with this Easy-Bake Ultimate Oven. Make 12 chocolate chip cookie bites with the delicious mix included and serve them to your friends! Just mix it, bake it and enjoy it with your amazing Easy-Bake Ultimate Oven! The Black Oven comes with baking pan, pan tool, chocolate chip cookie mix and instructions.  Adult supervision required.
We have the original Easy Bake Oven and it's been in the closet for a while.  They just sort of lost interest.  But they have been asking for the new Ultimate oven because they saw all the cool things you can bake now.  So they will both be happy to get this for Christmas and I'll be sure to pick up some of the yummy mixes to go along with it.  Then they can bake all week while home for Christmas vacation.   Should be fun!
This oven is intended for children ages 8 and up and you can purchase it for $54.99, unless you find it on sale.  Which I'm sure you will before the holidays!
Looking for more gift ideas? Be sure to follow the Karen's 2013 Holiday Gift Guide Pinterest board for more great gift giving ideas!

Disclosure: I received a Free product for review. My opinions are 100% mine.