This post is Sponsored by Leapfrog but my opinions are 100% my own!
Today is the 28th Day of Karen's 2013 Holiday Gift Guide and today's 2nd pick is the new and improved LeapFrog Leap Reader!  It was a few years back when I first reviewed the LeapReader and I was excited to get to do it again because it's been improved and while it was great before, it's even better now!
Holiday Gift Idea – Boy or Girl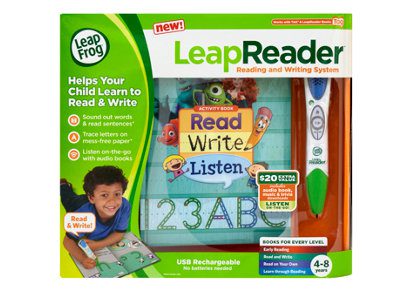 The LeapReader is a great tool for your little ones that are just learning to read.  It helps them learn the words they don't know so they can build the confidence to read on their own.  My girls both used the LeapReader at early ages and they are excellent readers and I really think it was from the help they received from the LeapReader.
About the LeapReader
LeapReader engages kids in imaginative stories with lively character voices while building vocabulary skills and growing reading comprehension skills. Interactive handwriting guidance helps children learn to write stroke-by-stroke on mess-free, no ink LeapFrog® Learning Paper.* Plus LeapReader helps develop listening comprehension skills on-the-go with a growing library of 100+ audio books and more featuring classic and popular children's books that encourage a love of reading.  Sampler book included.  All other books, games, audio books and handwriting workbooks are sold separately.
If your child doesn't find reading to be 'fun' then something like this may turn that around.   When they read the store, the LeapReader helps them to interact as well to make it more fun and a lot more interactive than just reading a book.  Trust me they are excited to turn the page to see what's next.
It's also a great tool in helping them learn to write because they have books that will teach them stoke by stoke, how to create their letters.    "Learn To Write Letters" is one book that we received which is awesome.  My youngest is still learning to write and while she's doing a good job, I believe this will help her to do even better.
Looking for more gift ideas? Be sure to follow the Karen's 2013 Holiday Gift Guide Pinterest board for more great gift giving ideas!

Disclosure: I received a Free product for review. My opinions are 100% mine.