This post is Sponsored by TOSY Robotics but my opinions are 100% my own!
Today is the 3rd Day of Karen's 2013 Holiday Gift Guide and today's pick is the DiscoRobo! The DiscoRobo dances along with you to the music and gets you moving too.  It's a great way to get your kids on their feet and dancing.  They come in 4 different colors but if you get more than one, you'll have a band!  How cool is that?
Holiday Gift Idea – Boy or Girl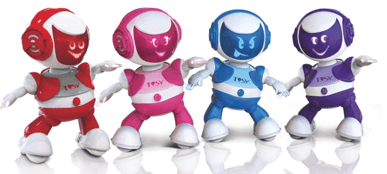 DiscoRobo represents a new generation of entertaining and interactive high-tech toys. Kids will be on their feet as they play their favorite tunes and dance along with this intuitive robot that uses beat detection technology to match the music with 56 booty-shaking dance moves! This futuristic robot displays eight engaging facial expressions that light up and change as he dances! Available in four colors (blue, red, pink, and purple). Requires 8 AA batteries (not included).
A new smart phone app will allow users to guide and customize DiscoRobo's dancing steps! With just a shake of the phone or a swipe across the virtual DiscoRobo on the screen, the robot will mimic the movements to the beat! Users can even record the real robot as captured by the phone's camera for the ultimate choreographed dance party! Available for iOS and Android devices.
My girls love music and love dancing so they are going to have a lot of fun with this.  And with the app, I am sure that they will video him too.  They love making movies already so this will surely take it up a notch.
The DiscoRobo normally sells for about $46.99 but you may be able to find it for less on Amazon!
Looking for more gift ideas? Be sure to follow the Karen's 2013 Holiday Gift Guide Pinterest board for more great gift giving ideas!

Disclosure: I received a Free product for review. My opinions are 100% mine.