This post is Sponsored by Mighty Leaf Tea but my opinions are 100% my own!
Today is the 5th Day of Karen's 2013 Holiday Gift Guide and today's pick is the Mighty Leaf Tea Master Tea Pouch Sampler!  The first few days were for the kids and now we have something for the adults on your holiday gift list.
Holiday Gift Idea – Man or Woman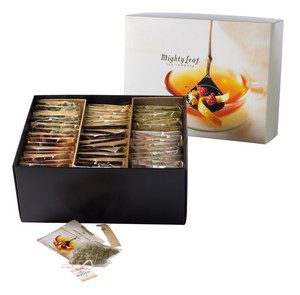 The Master Tea Pouch Sampler is great as a stand alone gift or as a refill for the Mighty Leaf Presentation Tea Book. This assortment of 108 Tea Pouches includes the following blends and number of pouches:
Black Tea – Organic Darjeeling Estate (10), Organic Earl Grey (10), Orange Dulce (10)
Green & White Tea – Green Tea Tropical (9), Organic Spring Jasmine (10), Organic Green Dragon (10), White Orchard (10)
Herbal Infusions – Organic African Nectar (10), Organic Detox Infusion (10), Chamomile Citrus (9), Rainforest Maté (10)
I think Tea makes a great gift and I know many that would love this gift.  My husband and I enjoy tea – him more than me and while I really wanted to gift this to him, I realized after going through the tea bags that really it's a gift for both of us and not just him as he'll only drink the black teas so instead we have been enjoying it the past couple of weeks together.  But this is not only great for the holidays but for anytime of the year.  With 108 bags of tea, the recipient will be able to enjoy this gift throughout the year.
My husband enjoys a good cup of Earl Grey tea and they really aren't all the same.  He told me out of all the Earl Grey's he's tried, this one is by far his favorite!  So now I know what I can get him next time, just the Earl Grey.
About Mighty Leaf
Mighty Leaf Tea is a family-owned company created by husband-and-wife team Gary Shinner and Jill Portman, who turned into reality their dream of infusing new life into the ancient indulgence of tea. In our carefully chosen blends you will find all natural ingredients including hand-picked whole leaf tea,
blossoms, herbs, fruits, and spices. Our vibrant leaves and blossoms are too big for ordinary tea bags, so we designed our own silken, artisan Tea Pouches™. We hand-stitch them with unbleached cotton, without using glue or staples. Seriously, these are the largest tea pouches you have ever seen! Satiate your senses with our wonderfully full and nuanced flavors and intoxicating aromas.
This box is beautiful inside and out.  Look at all those tea bags!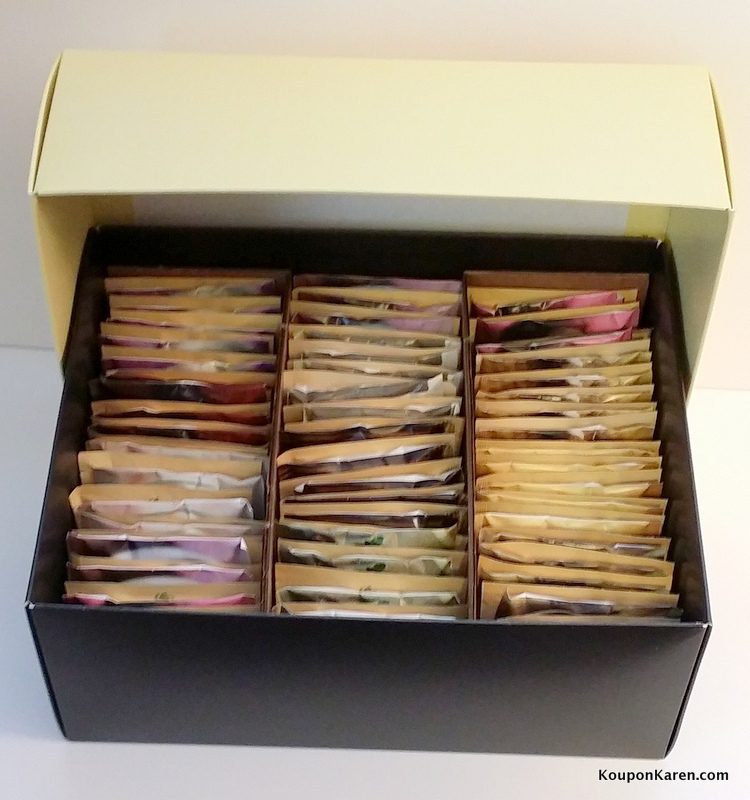 Any tea lover will really appreciate this….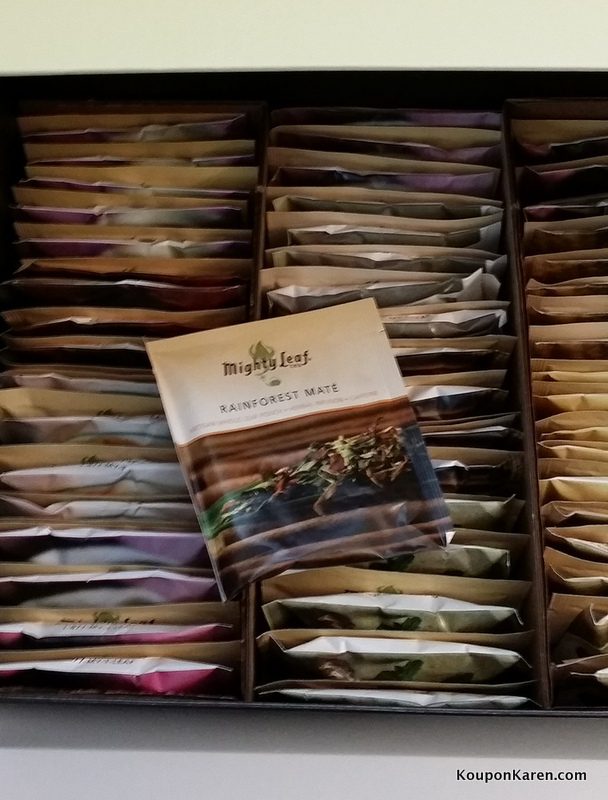 If you have someone on your list that will enjoy this you can purchase it online at MightyLeaf.com and have it shipped right to their home if you'd like.  And while you are there check out all the other great teas they have.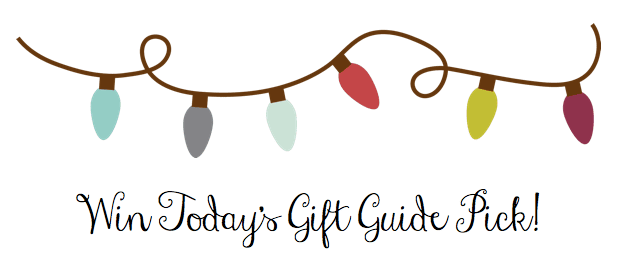 (1) Koupon Karen reader will win a Mighty Leaf Tea Master Tea Pouch Sampler!

To enter the giveaway, use the Giveaway Tools widget below. Email and feed subscribers will need to click-through to the site to enter the giveaway.
As a reminder, comments left on Facebook or Twitter will not be included. You must follow the instructions on the widget about the proper way to enter.   Of course Facebook is in no way associated with this giveaway!
Looking for more gift ideas? Be sure to follow the Karen's 2013 Holiday Gift Guide Pinterest board for more great gift giving ideas!
Disclosure: I received a Free product for review. My opinions are 100% mine.