This post is Sponsored by PBS but my opinions are 100% my own!
Today is the 8th Day of Karen's 2013 Holiday Gift Guide and today's pick is some items from Dinosaur Train!  From the Emmy® Award nominated and Parents' Choice Silver Honor PBS KIDS series, Dinosaur Train, they have some great new products for the holiday season!  And watch out for all-new episodes of Dinosaur Train coming in January 2014.
Holiday Gift Idea – Boy or Girl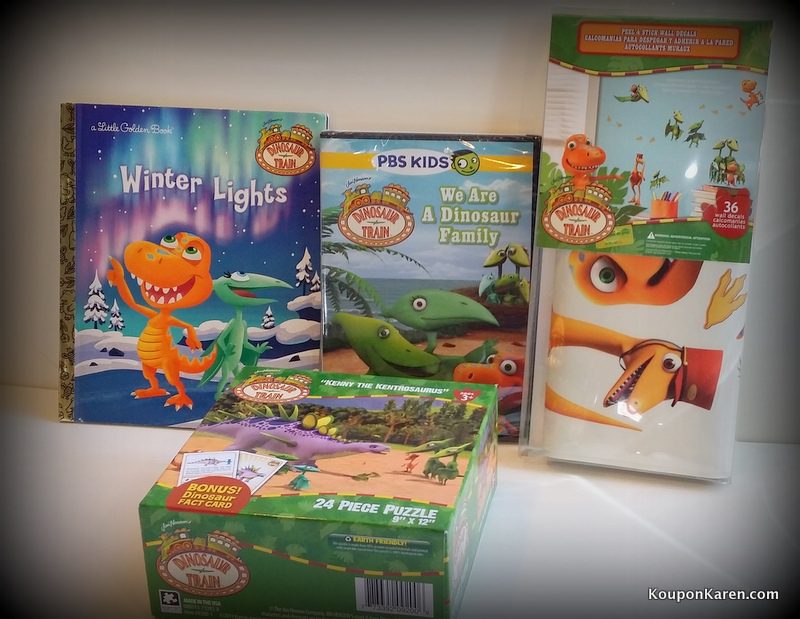 Dinosaur Train has some new products for the holiday season that your Dino loving fan is sure to love.  This is a nice gift pack that could be broken up into a couple of gifts for two children or one gift for one!  Or a great gift for siblings to share.
Dinosaur Train: Winter Lights – (Golden Books/Random House Children's Books) 
The Pteranodon family celebrates the beginning of winter with a trip to the North Pole! This Little Golden Book retells an episode of the PBS Kids show Dinosaur Train in which Buddy the T. rex and his siblings get to see the amazing Aurora Borealis! This book is for ages 2–5, it was published in September 2013 and is available where books are sold for about $3.99.  I love these little Golden Books and so happy they are still making them.
Dinosaur Train Peel & Stick Wall Decals – RoomMates
All aboard the Dinosaur Train! These fun wall decals will help you bring Buddy, Tiny, Shiny, Don, and more of your favorite dinosaur friends into any room. Your child will love having their Dinosaur Train friends on their walls! Like all RoomMates, these decals are removable and reusable, and can be repositioned over and over again without damage or residue. Help your little one go on their very own expedition by decorating their room with these stickers!  Decorate a room in seconds: Peel and stick, repositionable, removable with no sticky residue, easy to hang and easy to remove.  Made in the USA.   Decals range in size from 1.1″ wide x 1.7″ high to 8.5″ wide x 11.6″ high; 4 Sheets 10″ x 18″.
These are great for ages 2 and up and have been available since February 2013.  You can find them at Sears and sears.com and they sell for about $14.99 each.
Dinosaur Train "Troodon" 24-Piece Jigsaw Puzzle – Karmin
"Troodon" is just one of six new 24-piece jigsaw puzzles from Karmin, each one featuring a bonus laminated Dinosaur Fact Card.  Kids can have fun putting the puzzle together while learning interesting facts about dinosaurs.
This is great for children ages 3 and over and was just launched in the Fall of 2013.  You can purchase them at AC Moore, Christmas Tree Shops and other independent retailers for about $4.99 each. My youngest loves doing puzzles and is so proud at how much better she is getting.  And I love watching her do them.  She has a little system and doesn't get frustrated.  I think it's a great way to improve their fine motor skills.
Dinosaur Train: We are a Dinosaur Family – PBS Distribution
The holiday season is the perfect time of year to reinforce the importance of family. In the new DVD, Dinosaur Train: We are a Dinosaur Family, eight adventures feature prehistoric family fun at its best – the Pteranodon kids visit with their grandma and grandpa; Buddy, Tiny and Mr. Pteranodon join a few other dinos for a dad's day out; and Buddy and the Pteranodon kids look for flowers to give to mom on her special Mother's Day.
This DVD is approximately 100 minutes long and was just released on October 8, 2013 so it's BRAND NEW!  Perfect for keeping your little one busy while you get a little housework done, or just an opportunity to put your feet up.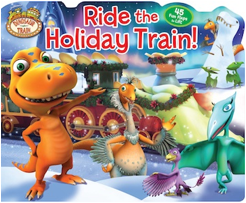 Dinosaur Train: Ride the Holiday Train Lift-The-Flap Board Book, from Reader's Digest
Buddy and his friends are super excited. Their favorite holiday is coming—the Winter Solstice! Kids travel on the holiday train to the North Pole where the Pteranodon family has the chance to build snow dinosaurs, play a prehistoric game of ice hockey, and meet some new friends.  Secondary learning activities which reinforce learning concepts are included, and over 45 flaps hide fun surprises that kids will want to find again and again!
For ages 3 and up and available at amazon.com for about $9.99.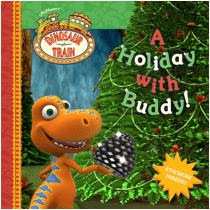 A Holiday with Buddy, paperback, from Penguin Young Readers Group
It's the holidays and the Pteranodon family is in Troodon town checking out some Cretaceous conifers, better known to us as Christmas trees. Buddy and his family find the biggest tree they can and decorate it for the holiday. This colorful 8 x 8 is great read-aloud holiday fun!
Also for ages:3 and up and grade level preschool and up.  You can also purchase this at amazon.com for about $3.99.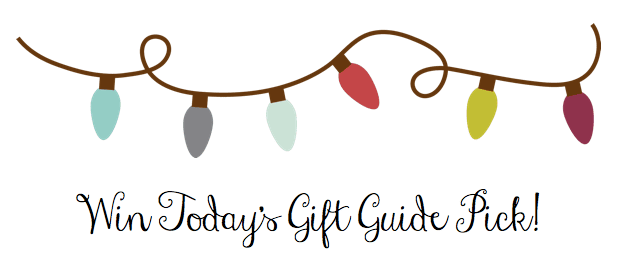 (1) Koupon Karen reader will win a Dinosaur Train Gift Pack which contains Three Book, DVD, Wall Decal's and Puzzle!

To enter the giveaway, use the Giveaway Tools widget below. Email and feed subscribers will need to click-through to the site to enter the giveaway.
As a reminder, comments left on Facebook or Twitter will not be included. You must follow the instructions on the widget about the proper way to enter.   Of course Facebook is in no way associated with this giveaway!
Looking for more gift ideas? Be sure to follow the Karen's 2013 Holiday Gift Guide Pinterest board for more great gift giving ideas!
Disclosure: I received a Free product for review. My opinions are 100% mine.