This post is Sponsored by K'nex but my opinions are 100% my own!
Today is the 9th Day of Karen's 2013 Holiday Gift Guide and today's pick is the K'nex Typhoon Frenzy™ Roller Coaster Building Set! My girls love building things and I'm excited for them to try K'nex as they will be getting some this year for Christmas. I think some may believe this is a boy toy but my girls love things like this so I'd say these are great for either!
Holiday Gift Idea – Boy or Girl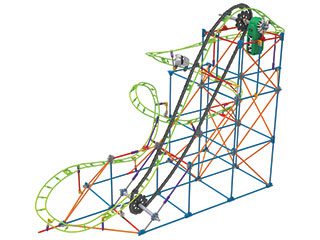 I'm just going to take a wild guess here, but I have a feeling that there will be many holiday wish lists that contain some K'NEX items.  Call me crazy but it's a hunch.  These are great for building on a child's imagination but also great for fine tuning their fine motor skills.   So it can serve as two purposes – fun and therapeutic!
This looks like a fun set, doesn't it?  I'm sure you can be extremely creative with this, especially if you have other K'NEX pieces to build on this.  But the best part is it comes with a coaster car that actually has a motor and will ride along the track.  How cool, right?
About Typhoon Frenzy Roller Coaster Building Set
Bring a wave of fun from the ocean to your living room with the new Typhoon Frenzy Roller Coaster Building Set from K'NEX! Build with over 640 K'NEX parts & pieces including, rods, connectors and track, and add motorized power to send the silver coaster car twisting and turning through over 19 feet of swirling, non-stop action! Plus, download exclusive instructions to build an incredible second model, the Tsunami Surge™ Coaster! All K'NEX rods and connectors are made in the USA!
This is great for ages 9+ and you can purchase it exclusively at Toys R Us for $39.99.
I love that you can download instructions for another model so it's like two gifts in one!
Be sure to follow K'NEX in the social media world!

Facebook: www.facebook.com/buildknex
Twitter: @KNEX
Instagram: KNEXBrands
Pinterest: www.pinterest.com/knexbrands
Looking for more gift ideas? Be sure to follow the Karen's 2013 Holiday Gift Guide Pinterest board for more great gift giving ideas!

Disclosure: I received a Free product for review. My opinions are 100% mine.