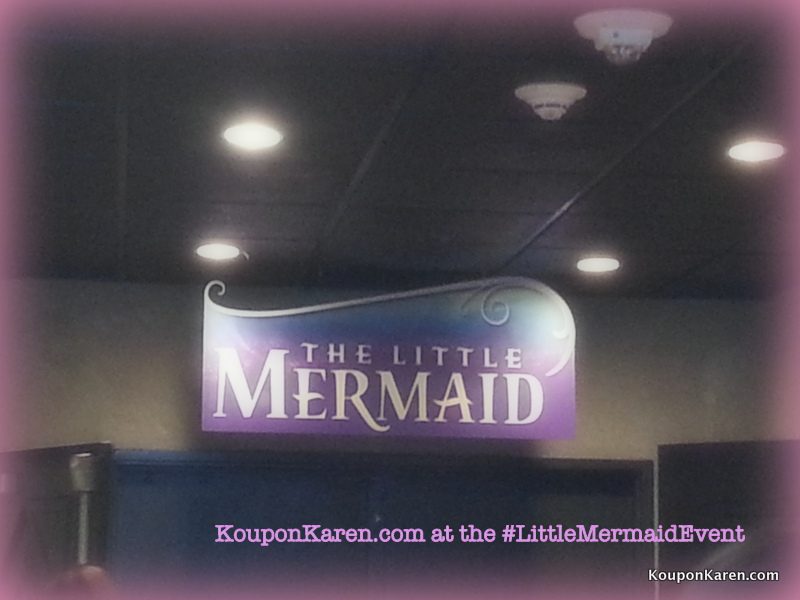 Disclosure: This event and trip to LA was an all expense paid journey sponsored by Disney.  All thoughts, experiences are 100% my own!
With the soon to be released Little Mermaid Diamond Edition DVD (10/1/13) comes, of course some new Little Mermaid products and while I was in LA last week I saw a sneak peek of some of the adorable products that you will soon be able to get your hands on!  The first night there we were invited to a Little Mermaid Consumer products dinner.   Try to vision a bunch of bloggers, all dressed up walking into a room that looked like we were underwater!  It was the coolest and prettiest thing ever.   As we all walked through the doors you could hear the collective "oohhh's" as everyone saw how beautifully they had decorated the room.
Displayed along the front of the room were products that will soon be in stores – and something for every age too!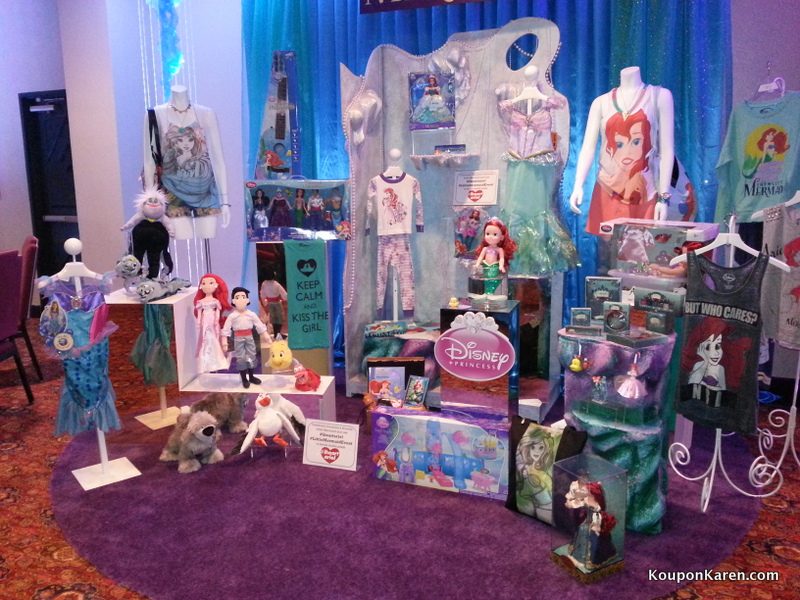 As I walked around the room I was just in awe and so excited that I was there because it was pretty cool to be invited to this dinner.  The tables even had blue table cloths to mimic the ocean and the center pieces were absolutely stunning!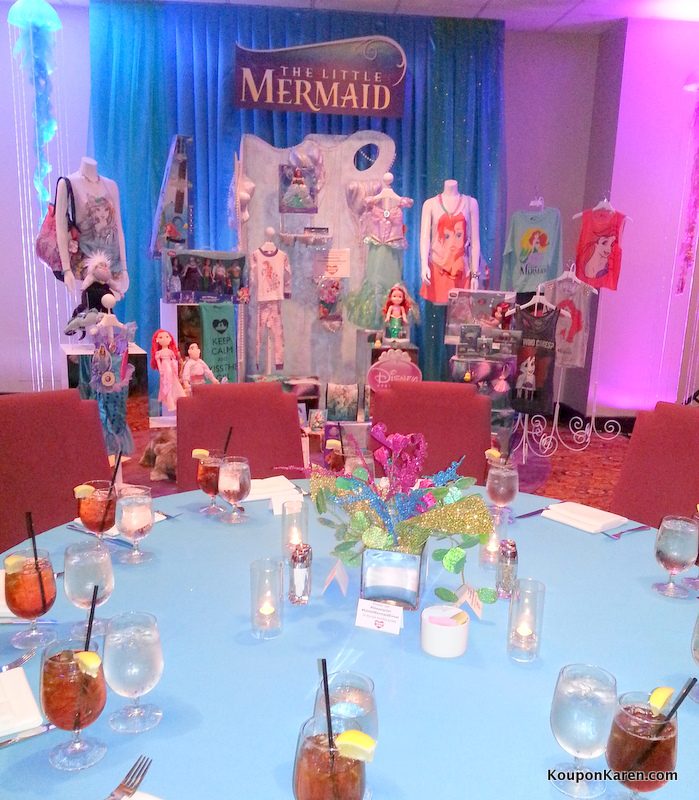 Each table had a slightly different centerpiece and this one I thought was the most beautiful!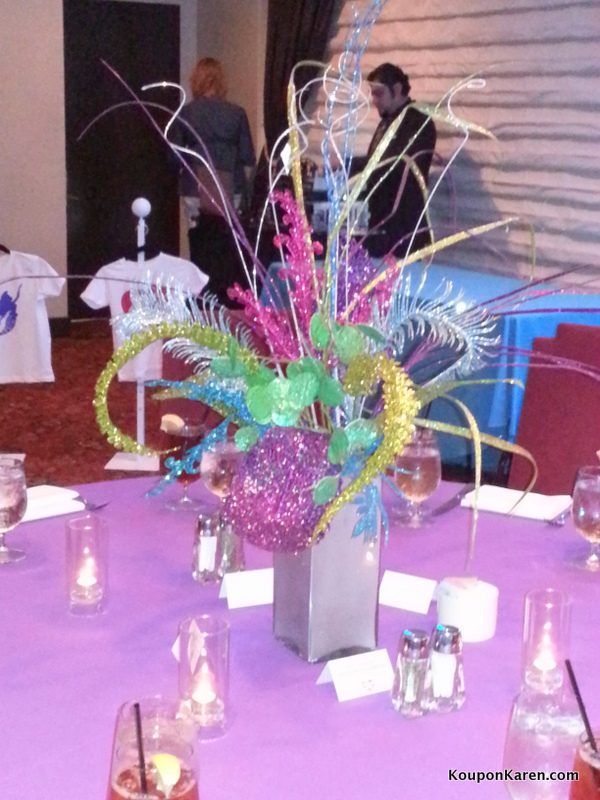 For dinner we had a delicious buffet of sliders (Veggie and Beef), Salad, Mac n Cheese and fries!  It was really good since I was trying to eat well while traveling, I had my first veggie burger, salad and mac n cheese.  I passed up on dessert even though it looked good.  Since I had to fly across the country that day to attend this event, it was really 9pm according to my body even though dinner was at 6pm so I wasn't really up to eating much.
During dinner we met the writers and directors of The Little Mermaid Ron Clements and John Musker for the first time.  They spoke briefly because we were going to have more time for questions and answers with them the next day. We also heard a bit about the merchandise and then after we ate ,we had some Little  Mermaid shirts made.  They were silk screen edright in front of us which I have to say was pretty interesting!   I grab two – one each for my girls.  Each shirt displayed our favorite Ariel personality.  I picked Adventurous for my older girl and Spirited for my younger girl.  And of course they loved them!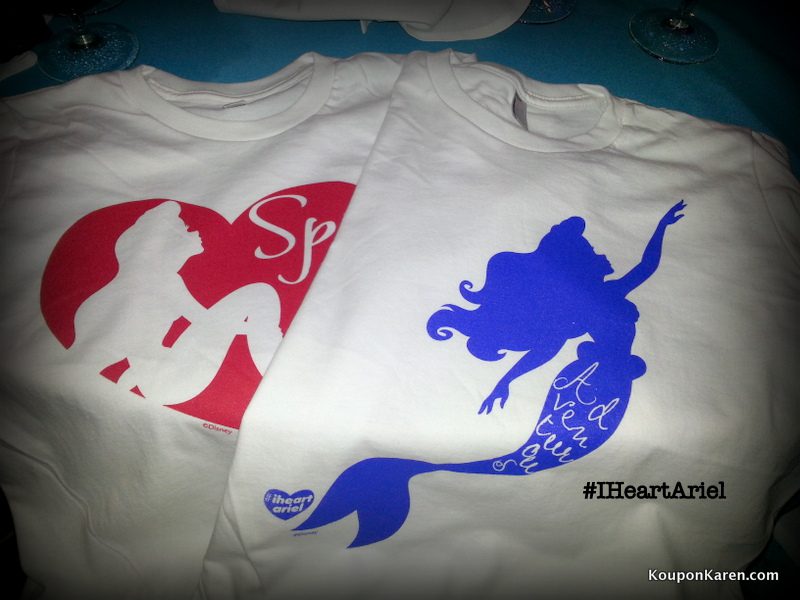 But back to the Disney Little Mermaid Consumer products.  They have some really cool products that are sure to make the top of some holiday wish lists.  And I loved everything, of course! I'm a woman and to make a choice of one thing out of a bunch of beautiful things, just isn't possible!
However, that being said because I'm a mom and I'm always thinking about what my kids need (rather than what they want) because I'm very practical I loved these Pajamas and I will be buying each of them a pair for Christmas because I know they will love them too!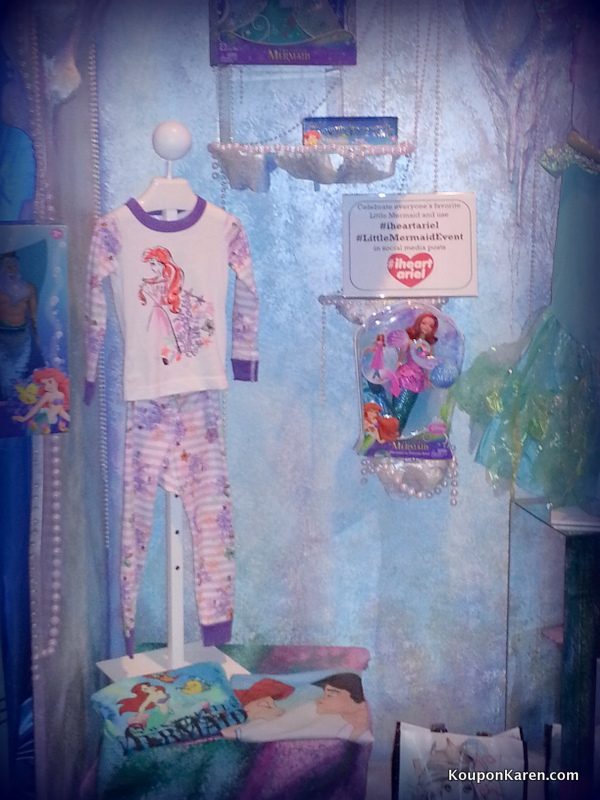 As I said, I'm sure lots of the new products will be great for holiday gifts so to give you a head start in planning, here are some of the featured items we were able to preview at the dinner:
Under the Sea Surprise Ariel – When placed in water her fin lights up and creates a magical rainbow of color!
Disney Princess Mermaid to Princess Ariel – You can re-create when Ariel transforms into a Princess!
Disney Princess Ariel Royal Ship – Have fun playing with Ariel at see!  her two level expandable ship will allow Ariel to steer from the top deck or slide below to her underwater world!
Disney Animator's Collection Ariel Doll Deluxe Bathtub gift set – It's toddler Ariel in a seashell tub with a terry cloth bath costume, satin nightdress and Sebastian!
The Little Mermaid Deluxe Doll Gift set – A five doll set which includes Ursula's alter ego Vanessa!
The Little Mermaid Plush Collection
Ariel Musical Light Up Dress – Girls can shimmer and shine like Ariel in a musical light up dress!
Ariel Costume Collection for Girls
Ariel Tee and Tank Collection at Hot Topic
Ariel Long John Pajamas (the ones pictured above)
Ariel Charm Bracelet – includes 10 charms
Disney Reigning Beauties Ariel Collection by Sephora
The Little Mermaid Read-Along Storybook and CD – perfect for long car rides!
Before we headed back to our rooms I took a picture with some of my new friends with our Ariel personality t-shirts…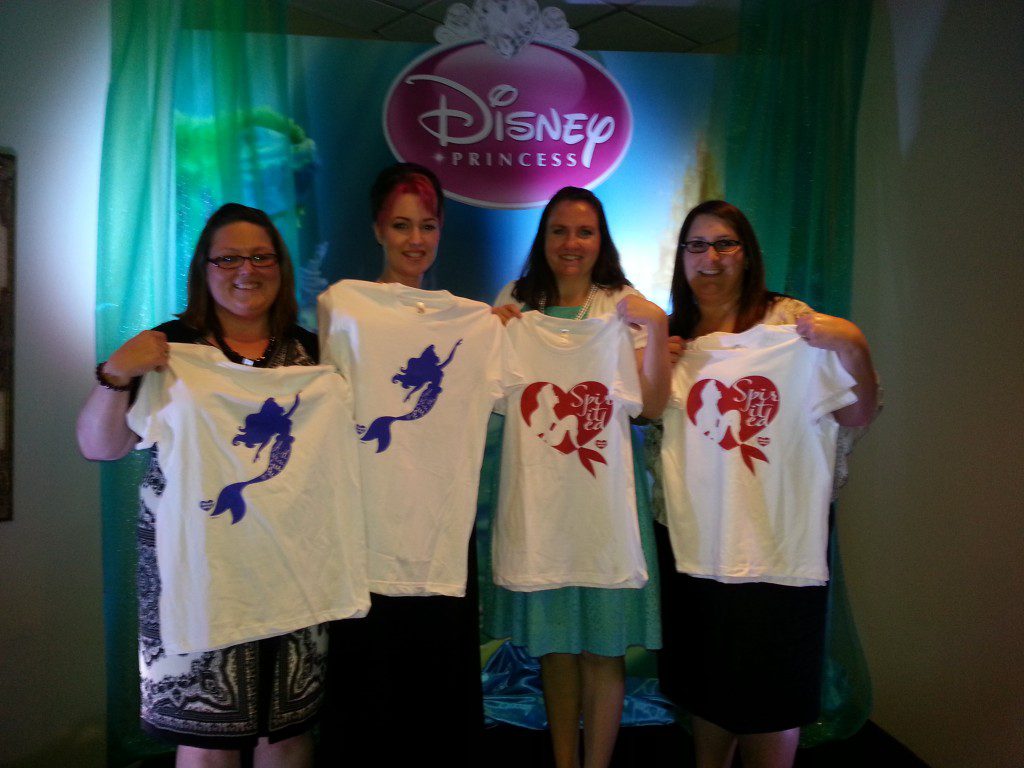 From left to right is Heidi from SMSLwithHeidi, Kenda from RemakingJuneCleaver.com, Stephanie from MakingOfAMom.com and me!
If you want to hear more about my trip, check out my other posts – Disney Planes Flies into Theaters Today August 9, 2013 | Planes Movie Review and Walking The Red Carpet at #DisneyPlanesPremiere.
Disclosure: I received a a FREE Trip to Los Angeles to attend the #DisneyPlanesPremiere and #LittleMermaidEvent. And even though there was a lot of Disney Magic happening, My opinions are still 100% mine.