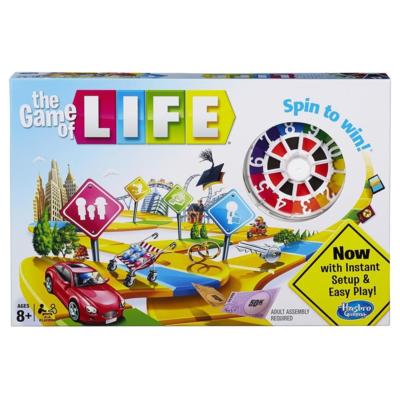 This post is Sponsored by Hasbro but my opinions are 100% my own!
The Game of Life is another favorite in our house.  The girls have loved playing with our old game but they really needed a newer version so we were happy to receive the Newest edition of The Game of Life from Hasbro for review.
If you aren't familiar with the game it's so much fun!  It's a game all about choices and each choice you make changes the game.  It's never the same game twice.  Where will your choices take you? You made it through high school, so now what's next? Go to college or start a career – it's your choice. Think the family life is for you? Take that path and see how many kids you'll have! Will you venture down the risky road where fortunes can be won…and lost? Do whatever it takes to retire in style with the most wealth at the end of the game. Spin the wheel of fate and take a drive along the twisting roads families have enjoyed for more than 50 years! Do good deeds as you go through the game to earn Life Tiles and more money down the road!
The newest version is much different from the one they've been playing with from my childhood.  Now instead of the tiles on the board having all the choices and decisions, you now draw cards instead.  I like it the way it was but that's just because it's what I'm used to.  It's still the same fun game and I love it when hearing the kids yelling from the other room "I had a baby"…. as long as they are playing The Game of Life!
Disclosure: I received a Free product for review. My opinions are 100% mine.