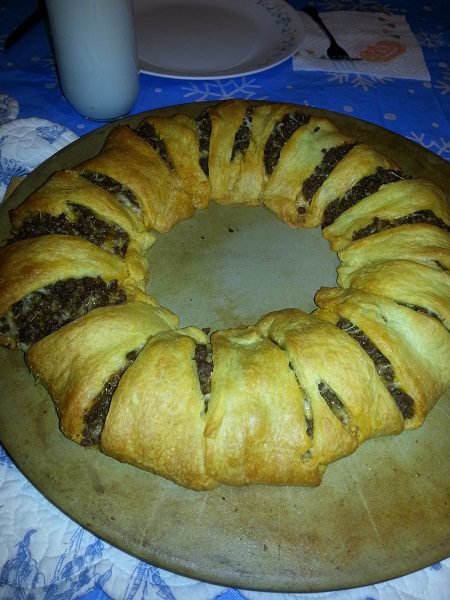 Many years ago when I had a Pampered Chef party at my house, the host made this Taco Ring and we loved it! I used to make it all the time when we had company over and then stopped.  Once I had kids I did things the easy way – either having someone else do it for me or buy it.  So eventually I just forgot about this recipe.
When planning my  New Year's Eve menu, I remembered it and added it to the menu.  My husband was so excited!  It was just as good as we remembered and my husband and I looked at each other and agreed I had to start making this again. The kids loved it too.    While at Aldi recently I grabbed some crescent rolls and when planning my menu for this week I saw them in the fridge and decided we had to have it on Monday.
This was our dinner last night and there was hardly any left!
Here is the recipe straight from Pampered Chef… it's really a simple recipe.
Pampered Chef Taco Ring
Prep Time: 15 mins.
Bake Time: 20-25 mins.
Oven Temp: 375
Ingredients:
1 lb lean ground beef
3 Tablespoons of Homemade Taco Seasoning (or one packet of taco seasoning)
1 cup shredded cheddar cheese
2 tablespoons water
2 (8 ounce) packages refrigerated crescent dinner rolls
Lettuce, shredded
Tomato Diced
Black olives (optional)
Sour cream (optional)
Jalapeno Peppers (optional)
Directions:
Cook ground beef in a large skillet over medium heat until beef is no longer pink then drain.
Stir in taco seasoning mix and water and cook on low heat until water is absorbed
Remove from heat and transfer to bowl and add cheese. Mix well.
Preheat oven to 375°F
Unroll crescent dough and separate it into triangles
Grab your Classic Round Pizza Stone from Pampered Chef (or whatever you have in your cupboard) and arrange the triangles in a circle with wide ends overlapping in the center and the points toward the outside.
Use a spoon or a cookie scoop to scoop the meat/cheese mixture onto the biggest part of each triangle.
Fold the pointed part over the wide part and press closed.   This will form the ring and you'll still see some of the meat mixtures through the folded over triangles.
Bake for 20-25 minutes or until golden brown.
You can serve it right on your taco ring and even add the lettuce, tomatoes, and all the fixings to the middle of the pizza stone to make it look pretty!  I've done that for parties but when I make this for dinner I put all the fixings in a separate dish.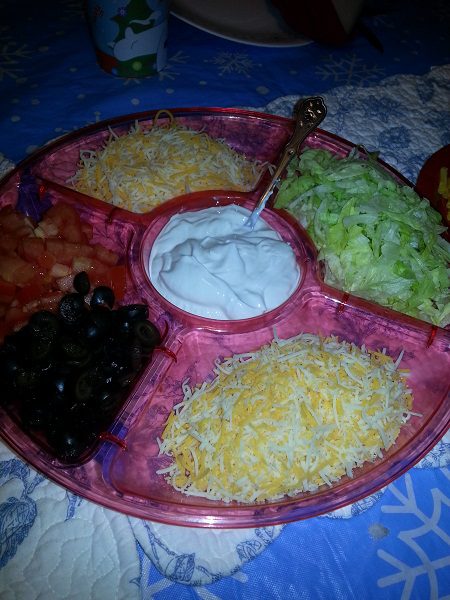 My kids look forward to this now and it'll be added to our regular meals especially since it's super quick and easy to make.  I usually cook the hamburger ahead of time (and freeze it) then just heat it up with the seasoning the night I'm making this.   The first few times you arrange the crescent rolls you'll find yourself moving them around until they all fit, but after a while, you'll get the hang of it for sure.  If you aren't sure how to arrange them just Google "Pampered Chef Taco Ring" for pictures.  I should have taken a picture before I filled them but didn't think of it.
Let me know if you try it!  I'd love to hear what you think!