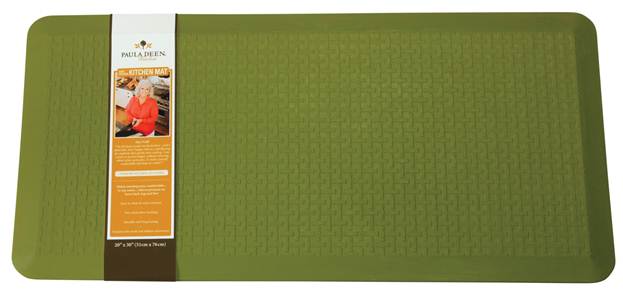 Product Name: Paula Deen Anti-Fatigue Kitchen Mat
Product Information: Thanksgiving and holiday meals are synonymous with hours spent slaving away in the kitchen, but hosting the family get-together no longer needs to be a source of stress or discomfort. Everyone from professional chefs to the home cook can experience comfort in the kitchen this holiday season with the launch of the revolutionary Paula Deen Anti-Fatigue Kitchen Mat by Sleep Innovations. Known for her warm manner and comforting Southern-style cooking, Paula Deen has endorsed the Anti-Fatigue Kitchen Mat, calling it "the cook's must-have item next to the apron," which helps her remain on her feet throughout multiple show tapings.
The Anti-Fatigue Kitchen Mat provides a supportive surface in the kitchen to reduce exhaustion and foot, leg, and lower back pain. The mat is versatile, stain-resistant, waterproof, and easy to clean, and a non-skid bottom keeps it safely in place.
It's available in sage, chocolate, tan, and brick, it also comes in a variety of sizes and patterns and is available at Kohl's locations nationwide.

My Thoughts: I love this kitchen mat, even more than the one I already had in my kitchen.  The Paula Deen mat has a GREAT non-skid bottom and is very hard to move on purpose, let alone by accident.  It really does stay in place.  And it's extremely cushiony (is that even a word?!) and feels so nice to stand on.
I have the sage one pictured above and I love the color and style.  It fits nicely right in front of my stove and makes a world of difference when I am standing there cooking.  I wish I could cover my entire kitchen floor with these mats so I will always have support when standing in there.
Disclosure: I received a Free product for review. My opinions are 100% mine.
Be sure to bookmark our 2021 Holiday Gift Ideas page!