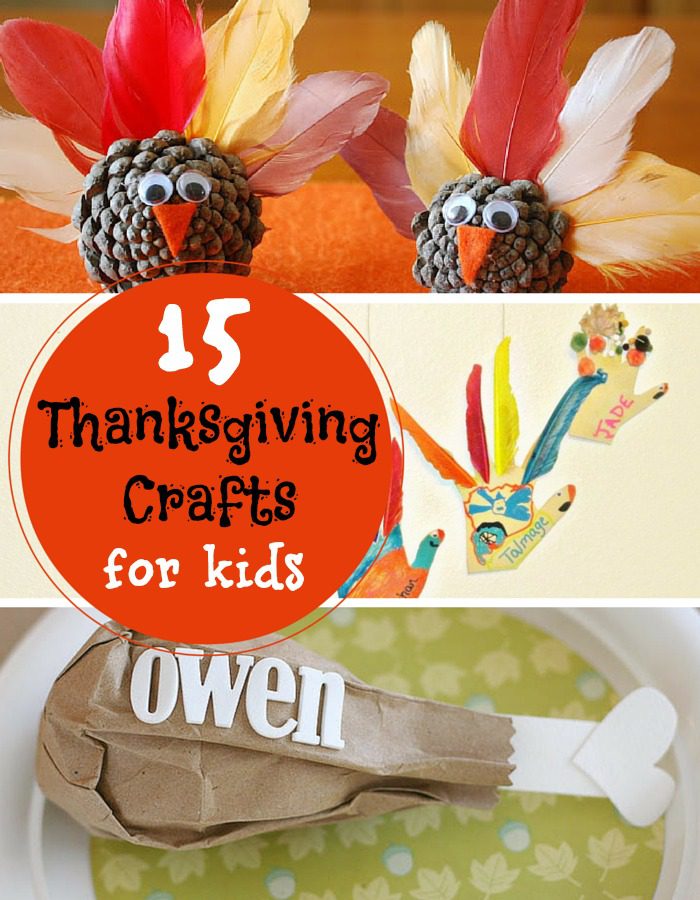 Keep the kids busy this Thanksgiving season with a few fun crafts to teach them about the history of the holiday! Check below for some of our favorite Thanksgiving crafts!
15 Thanksgiving Crafts for Kids
Hanging Turkey | Jade Louis Designs – Thanksgiving crafts have to include a turkey!  Have a ton of fun making this hanging turkey. Instead of it getting put in a box, you get to hang it wherever you please in the house!
Turkey Leg Place Card | Fiskars – These are an adorable craft that will make your little ones feel like a part of the getting ready on Thanksgiving!
Pinecone Turkey | A Pumpkin and a Princess – This is the cutest turkey pinecone I've ever seen. Usually I'm not partial to pinecone turkeys but this was too cute to pass up!
Turkey Cones | Crafty Morning – These turkey cones are an adorable craft for the kids and can be used in a variety of ways. Hats, table décor, and whatever else you decide to use them for!
Popsicle Stick Scarecrow Magnet | This Girl's Life – Scarecrows are perfect for a fall craft and will liven up the fridge for Thanksgiving when you turn them in to a magnet!
Pilgrim Hat Crayon Cups | Lil' Luna – Now, these are the most adorable idea! Every kid needs something to keep them busy while at the table and why not use a Thanksgiving theme to do that?
Pumpkin Pie Kid's Craft | A Night Owl – Nothing says Thanksgiving better than pumpkin pie! Let the kids make their own pretend pumpkin pie while the real deal is cooking!
Lego Stamped Indian Corn | Crafty Morning – Put those legos to more use than stabbing your foot and lying in the middle of the floor. Use them to make Indian corn!   One of my favorite Thanksgiving crafts!
Pilgrim Hat| Alpha Mom – Kids love to dress up and what better way to teach them about how Thanksgiving came about than having them dress up like pilgrims?
Thanksgiving Pretend Play Set | Creekside Learning – Don't throw those toilet paper rolls away just yet, use them to make a set of pilgrims and Native Americans to tell the Thanksgiving story to your kids!
Make Your Own Turkey Frame| The Chirping Moms – Have the kids help you with even more memories by having them decorate their own Thanksgiving picture frame!
Bobblehead Pilgrims | Gracious Rain – This is the most adorable idea I have ever seen for a Thanksgiving craft! Use your kids' pictures and have them help you turn their photo into a pilgrim bobblehead!
Turkey Puppet | I Heart Crafty Things – Grab some cupcake liners and make these cute turkey puppets for the kids to play with during the Thanksgiving season!  This is one of those Thanksgiving crafts that is also a game!
Make a Mayflower | Raising Arizona Kids – Teach your little ones about the Mayflower by helping them build one!
Turkey Napkin Rings | Simmworks Family – Have the kids help set the table by showing them how to make these adorable napkin rings just for Thanksgiving!
You have time to try them all so which Thanksgiving crafts will you start with?