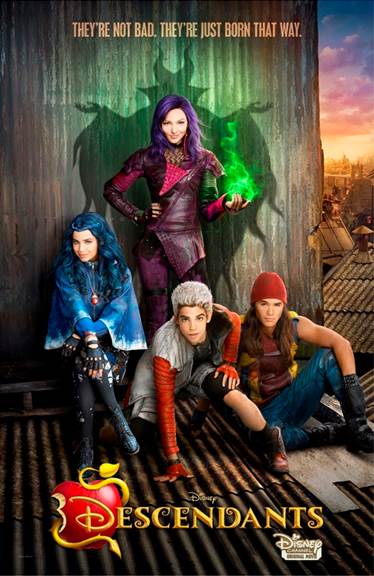 Disclosure: I received an all expense paid trip to Los Angeles California for the #DescendantsEvent and #AntManEvent Press Junket.  All opinions are my own and were not swayed by any outside sources!
I am so excited that the day is finally here! Tonight Disney's Descendants premieres on The Disney Channel at 8pm EST. My kids have been counting down since the day I returned from my press trip to L.A. and saw a screening of Descendants. They've had the DVR set all week long so they can record it and watch it over and over again!
What makes this movie so exciting to them? It's the story about the children of the villains from some of their favorite fairy tales – The Evil Queen from Snow White, Maleficent from Sleeping Beauty, Jafar from Aladan and Cruella de Vil from 101 Dalmatians. It also gives us a glimpse of life in Beast and Belles castle along with meeting their teenage son. Actually he's the one that comes up with the idea to offer the trouble-making offspring of these Villains a chance at redemption. He convinces his parents to invite them into the kingdom to attend prep school with him and the other children of our favorite Disney heroes. That's when all the fun begins but I'm not going to spoil it for you.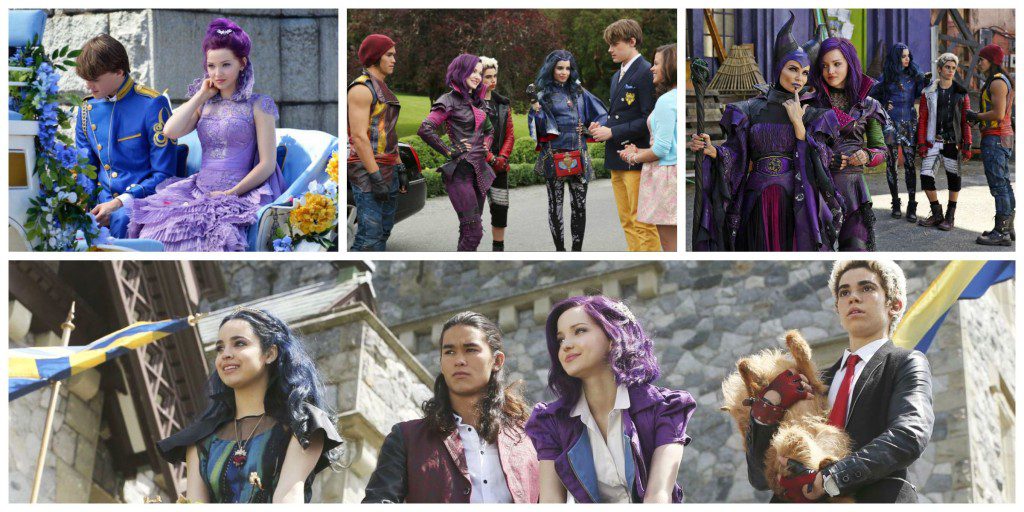 10 Reasons You and Your Kids will LOVE Disney's Descendants
What I am going to do instead, is give you 10 reasons you and your kids will LOVE Disney Descendants!
There will be Dancing, lots of Dancing!!!  Descendants is directed by Kenny Ortega who also directed High School Musical.  Need I say more?  Your kids will be up and dancing along with the Descendants kids.
There are cute boys and pretty girls in Descendants.  My girls adore Cameron Boyce already and the moment they saw a picture of Mitchell Hope, my 10 year old's eye's widened.  Yeah, he's adorable too.  But the costume design in this movie is amazing and while the Descendants don't dress traditionally, their outfits are stylish and fun!
It stars some of their favorite Disney Channel stars –  Cameron Boyce (Jessie, Gamers Guide) and Dove Cameron (Liv and Maddie).  Chances are if the Disney Channel has been on this summer, one of them have been on-screen!
The songs are catchy!  My girls love music and movie soundtracks.  The songs in Descendants are fun and they will find themselves singing these songs all day.  And I'm warning you, so will you!  The first song "Rotten To The Core" is pretty catchy.
Some of their favorite fairy tale characters are in Descendants.  But not just the princesses and princes, but the Villains – or Rebels!   Maleficent, Cruella de Vil, Jafar and the Evil Queen are the parents of the "Descendants" and they are great in this movie!
It stars the children of some Disney Fairy Tale Villains.  My girls are so excited to "meet" the kids of these Villains.  They love new characters that are tied into the Fairy Tales they grew up with and are excited to meet the rest of the family.
Besides Dove Cameron and Cameron Boyce,  there is an amazing cast of extremely talented actors and actresses.  Kristin Chenowith plays Maleficent on Broadway so she was a perfect pick for this.  If you are a fan of hers, you are going to love her in Descendants!  She's a scene stealer for sure!  See a list of the entire cast below.
The kids will be able to relate to the main characters – Mal, Evie, Jay and Carlos.   They are confused as to who they should be.  Should they be like their parents, who aren't very nice people, or should they be better?  And at the same time, they want to be accepted for who they are, yet they don't know who that is.  If you have tweens or teens, then this probably sounds familiar!
You'll see what happened to these Villains after the movies we know were over.  I know I love to see the after story and my kids do too.
The fun won't end when the movie is over.  You can purchase the DVD, Soundtrack CD and there is also a line of dolls that you can buy to keep the fun going at home.  My girls are big into imaginary play with their dolls and they are already putting money aside to buy these dolls.  They have also been asking me all week if we can get the Soundtrack CD this weekend!  Plus the DVD contains bonus features like Backstage Dance Rehersals, Bloopers from Kristin Chenoweth and the cast cracking up on set and more!
The Cast of Descendants
Kristin Chenoweth ("Wicked," TV's "Glee") as Maleficent
Dove Cameron (TV's "Liv & Maddie") as Mal the daughter of Maleficent
Wendy Raquel Robinson ("The Game," "Miss Congeniality") as Cruella de Vil
Cameron Boyce (TV's "Jessie") as Carlos the son of Cruella de Vil
Maz Jobrani ("The Interpreter," "13 Going on 30") as Jafar
Booboo Stewart ("X-Men Days of Future Past," "Twilight") as Jay the son of Jafar
Kathy Nijimy ("WALL-E," "Sister Act") as the Evil Queen
Sofia Carson (TV's "Austin & Ally") as Evie the daughter of the Evil Queen
Mitchell Hope ("Down the Way," "Yes Mum") as Ben the son of Beast and Belle
Melanie Paxson ("Saving Mr. Banks," "Happy Family") as Fairy Godmother
Brenna D'Amico as Jane the daughter of Fairy Godmother
Sarah Jeffery ("Shades of Blue," "Rogue") as Audrey the daughter of Princess Aurora
Zachary Gibson ("Zapped") as Doug the son of Dopey
Jedidiah Goodacre ("If There Be Thorns," "Zapped") as Chad Charming the son of Cinderella
Dianne Doan ("Last Night in Suburbia") as Lonnie the daughter of Mulan
You can see the first 6 minutes of Descendants in this clip below… it's a sure fire way to really get them excited for tonight!
Disney's Descendants premieres tonight (7/31) on The Disney Channel at 8pm EST.