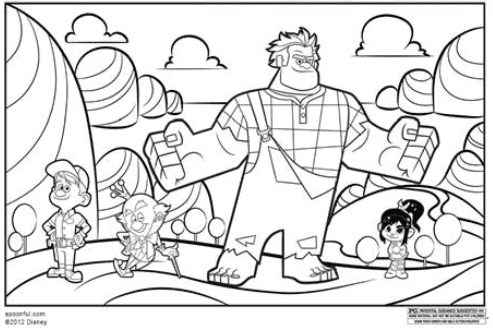 FREE Wreck-It Ralph Coloring Pages
How about some FREE Disney Coloring Pages?  Wreck-It Ralph was first in theaters Friday, November 2nd.  Here are some FREE Wreck-It Ralph coloring pages for the kids to enjoy while they wait to see the movie!  We can't wait to see it and I'm hoping we can find some time to go and see it in the theaters rather than wait for it to come out on DVD.
Click the links below to download the PDF file and the print!  These will print out in black and white so they won't use a lot of your ink.  These are great to have on hand for a rainy day project for the kids.  After they are completed, laminate them together and make a fun placemat for the kids!
Check out our other Wreck-It Ralph Blog posts below:
DVD/Blu-ray Review + Printable Activities
Wreck-It Ralph Valentine's Day cards
Wreck-It Ralph Apps
Wreck-It Ralph Watch
I love FREE Stuff – do you? Check out everything we've found in the Freebies Section