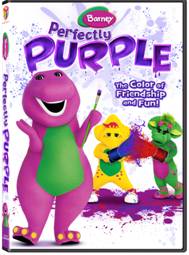 This post is Sponsored by Lionsgate and HIT Entertainment but my opinions are 100% my own!
What a perfectly purple kind of day with Barney and his playground friends in Barney®: Perfectly Purple available on DVD, Digital Download and Video on Demand as of November 12, 2013 from Lionsgate and HIT Entertainment.  It's rainbows of sharing, caring and imagination with everyone's favorite T-Rex and his dino pals as they learn colors of every hue in this trio of bright, lively tales.
Trusted by moms and adored by children, Barney displays sharing, caring, imagination, dancing and learning on television, online and through live events, home entertainment, toys and publishing. In 2013, Barney is celebrating over 25 years of love and friendship with the Barney 25 Million Hugs campaign. Barney is inviting fans of all ages to help him reach his goal of sharing 25 million Barney hugs around the world through the site www.ShareBarneyHugs.com and via email, Facebook and Twitter.
About Barney®: Perfectly Purple
With a splash of purple and some help from his friends, Barney always finds ways to have a Tee-riffic time together. Barney and his friends plan a perfectly purple party for a friend, and with some special Barney magic, it becomes a purple party surprise for everyone!  When Baby Bop, BJ and Riff reveal their inner artists in the park, they learn the most special art comes from the heart!  When Riff's drumsticks go missing, Barney turns the search into an exploration of the colorful world around them. With parties, festivals, adventures and more, Barney and his friends show how colors make the world a beautiful place!
Episodes include:
"A Perfectly Purple Day"
"Arts"
"Neighborhood"
DVD BONUS FEATURES
Animal Sounds Match Game
Barney's Color Train Read-Along
"Clean Up, Clean Up" Karaoke Music Video

(1) Koupon Karen reader will win a Barney®: Perfectly Purple DVD.

To enter the giveaway, use the Giveaway Tools widget below. Email and feed subscribers will need to click-through to the site to enter the giveaway.
As a reminder, comments left on Facebook or Twitter will not be included. You must follow the instructions on the widget about the proper way to enter. Of course Facebook is in no way associated with this giveaway!
Disclosure: I received a Free product for review. My opinions are 100% mine.