This post is Sponsored by Woats Oatsnack but my opinions are 100% my own!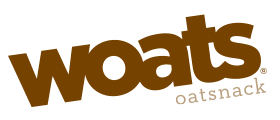 We were recently introduced to a new snack that we fell in love with and I don't mind serving to my kids.  It's called Woats Oatsnack and its a granola snack but so much better than just granola.  It's more of a granola that my oldest daughter would probably think up than me because it contains cookies, peanut butter, graham crackers and more!
Yes, sounds good right?  It's sinful and yet healthy and good for you at the same time.
It's not loaded with cookies and crackers but they are added to the mix to 'mix it up a bit' and make it more fun to eat.  Plus the flavors together are amazing.
For a healthy snack that seems more like a sinful indulgence, WOATS  Oatsnack will have you taste buds wanting more.  Not your typical granola, but a sweet modern day fusion of wholesome oats instead, WOATS provides premium ingredients, and mouth-watering flavors that are an easy on-the-go solution when hunger strikes. 
WOATS is the perfect traveling companion for hikers, bikers, busy moms, and office goers in need of a quick pick-me-up throughout the day. Each bag is filled with delicious morsels of healthy oats and tantalizing ingredients that satisfy cravings without preservatives or excess fat.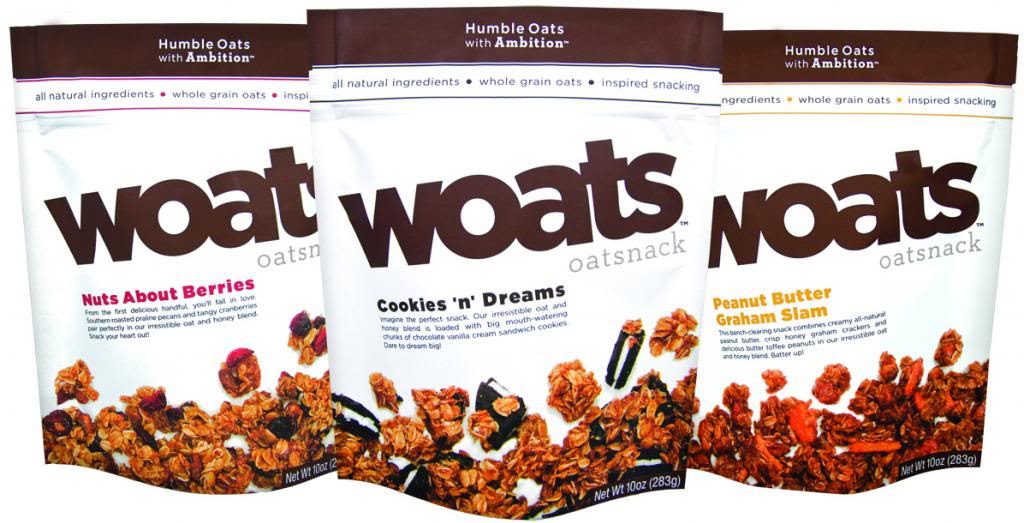 We received the following three varieties to sample:
Nuts About Berries pairs handfuls of Southern roasted praline pecans with tangy cranberries for a mix that will give travelers energy so they can focus on their goals.
Cookies 'n' Dreams is a sweet treat any child will adore, filled with golden oats and savory chunks of chocolate vanilla cream sandwich cookies.
Peanut Butter Graham Slam is the perfect snack for game day, with crisp honey graham crackers and sweet butter toffee peanuts add protein to this healthy indulgence.
The Peanut Butter Graham Slam was my favorite.   The combination of the toffee butter and graham crackers with the oats, was AMAZING!!  But the best part was I didn't feel guilty having a handful or giving one to my children because the oats are so good for them!   My oldest and my husband loved the Cookies n' Dreams the most because of the cookies.  My girl is a self-proclaimed cookie monster and loves anything with a cookie in it, on it or with it.   The Nuts about Berries is a perfect snack mid-day when I need a pick me up but also want something sweet.  The cranberries, while they can be tart, sweeten up this mix in an amazing way.
What makes this stand from other granola's I've had is that it's not super crunchy, it's more soft so it's easy on your teeth.  However that means it doesn't satisfy me when I need a crunchy fix, just my sweet yummy fix.  I have all sorts of 'fixes'.
However, it doesn't need to be crunchy because it's delicious exactly how it is.  This is definitely a snack I'll keep in the house for me and for the kids.
About Woats
Founded in December 2003, Anderson Trail is a values-driven food company with the motto of "humble oats with ambition." This not only stands for their creative flavor combinations, but also represents founder Justin Anderson's desire to help other kids and young adults dream big. Anderson set his sights on entrepreneurship at the age of 16, founding his first successful venture into the food market with Anderson Trail Premium Soft Granola. Driven by his learning experiences and the adversity he faced with breaking into the industry at such a young age, Anderson has implemented his own motivational system for inspiring kids today to find and succeed at their passions.  WOATS is available in select stores, and can now be found in one of the new displays being featured in 47 Target locations across the nation.
Disclosure: I received a Free product for review. My opinions are 100% mine.