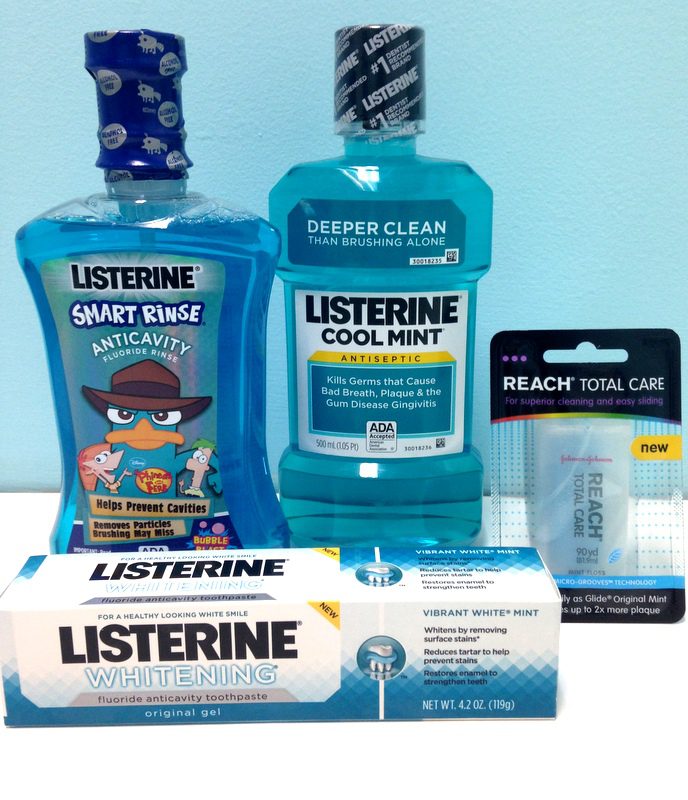 This post is Sponsored by Listerine but my opinions are 100% my own!
Last month I told you that I was taking the Listerine 21 Day Challenge and I'd be using the products pictured above, along with my family for 21 days.  I'm proud to say that I did use them every single day since that post and I think I have some new Oral Hygiene routine!
Last year I started taking care of some dental issues I had and began a year-long process that I am happily almost done with.   Because I've spent so much time and money fixing these issues I definitely don't want to go backwards in oral health care so this challenge came at a great time!
I realize now more than before how important it is to floss daily and to keep my teeth as clean as I can so there will be less plague build up.  And since I learned how brushing misses 75% of your mouth, I know I need to do more to get the rest – which means flossing and rinsing with Listerine.
My dad grew up using Listerine and I never liked it.  But when I was little they only had one flavor and it never tasted good.  Now there are so many different flavors there is something for everyone.   One thing my father swore by was that Listerine kept germs out of his mouth and he was sick less.  Well after using Listerine for the last few weeks, during cold and sore throat season, I'm starting to believe that my dad was onto something.  My kids and my husband have both been sick but I haven't.  Perhaps it's much better at killing germs in your mouth than I thought?  Or maybe it's just a coincidence but I'm going to keep doing it.
Besides, it's now a new habit and I think I read one that after doing something for 21 days it becomes a habit.
And just to remind you, Target has everything you need for the 21 Day Listerine Challenge if you choose to join in.  It's never too late to start.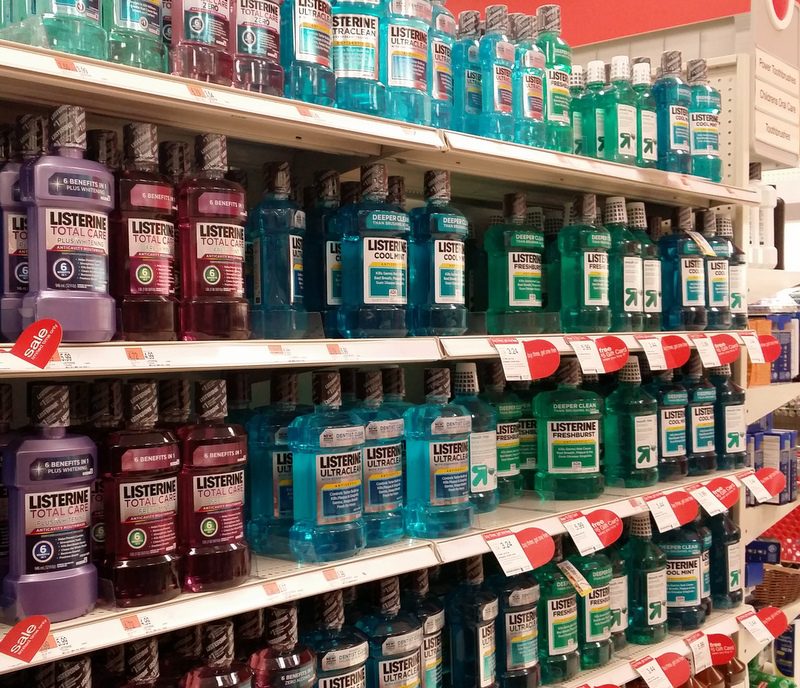 Last month, for the LISTERINE® 21-DAY CHALLENGE Oral Care Challenge I went to Target to purchase the following items…
LISTERINE® Antiseptic
LISTERINE® SMART RINSE®
LISTERINE® WHITENING® Original Gel Fluoride Anticavity Toothpaste
REACH® Floss
And the kids are still using the Listerine Smart Rinse….
And I also want to remind you that for every person who posts a "Swish Selfie" to LISTERINE® Brand's Facebook page, LISTERINE® Brand will make a $5.00 contribution to Oral Health America's Smiles Across America® program, up to $85,000, toward their goal of connecting 210,000 children with needed oral health services in 2014.
So join me in this challenge and pick up some Listerine and Reach products at Target to begin!  Let me know how you do!
Disclosure:  Disclosure: "I received a Target gift card to purchase LISTERINE® Brand products from Johnson & Johnson Healthcare Products Division of McNEIL-PPC, Inc. and The Motherhood as part of my participation in the LISTERINE® 21-Day Challenge.  All thoughts and opinions expressed in this post are my own."